Sunday, August 03, 2003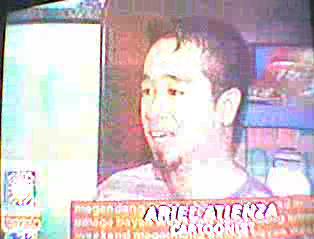 I had no idea my eyes are that small on TV.
I missed the show this morning. It was a bit deliberate on my part since I wasn't sure I wanted to see myself talking on TV. I didn't even announce this to anyone I know except for one friend from College. I easily get freaked out once people come up to me with flattering comments about being "famous" or something.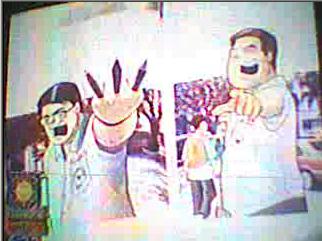 There it is! Awright!
Hmmm...
I wonder how many of my works were shown. They took a lot of shots of different works and these two are just one of my favorites. I dunno if they also showed the pen sketches of the other characters. I wish they did, especially since I have no idea how long the feature was. I just hope they showed more of my work than me. I also wonder how many people watched the show? They said they'll be providing us with a copy of the segment. Maybe then I'll show it to my family and friends.
Or maybe not.
More screen shots can be seen
here
.