Monday, July 11, 2005
I'm back. Exhausted but extremely happy to have gone through a booksigning experience I'll never forget. As promised I woke up at 4 a.m. but got up from bed seven minutes later after Mark "threatened" to call me using the landline. We worked out the details on where to meet before going to
Gateway Mall
. It was 4:13 a.m. and we agreed to meet at Chowking at the Crossing area at 4:40.
Come 4:40 I was still the at the gate taking pictures of our quiet street and Mark sends me a text message apologizing that he was just departing from their house at the same time. I made a beeline to our meeting place, a semi-Chinese resto open 24 hours a day and ordered breakfast. I finished breakfast a little past 5 and Mark was still nowhere to be seen. And just as I was about to send a message asking where he was he came knocking on the glass window near where I was. We walked fast to the MRT station as we were 20 minutes late on our self-imposed schedule of being at the place at 5:00. We scared ourselves silly with the thought that they could be 5o people waiting in line at the place. The station opened and started selling tickets 5 minutes later.
We walked fast again upon disembarking from the train, talking about yesterday's booksigning events at the Promenade. We heaved a sigh of relief when we discovered there were only 4 people waiting in line ahead of us. Good thing the exit door next to the bookstore was located beisde the exit door leading to the Metro Rail Transit system giving us a convenient excuse to stay put. A lady guard tried to shoo us away, giving us some details about other people lining up downstairs near the activity area where the signing was originally slated to be held. We stood our ground explaining that priority numbers were usually given by the bookstore staff at the store itself. We continued talking among ourselves and started listening to those others in the line as time went on.
Nelz
arrived around 6:30 am and parks himself beside our place in the line. There weren't that much people yet at the line so those immediately behind us
(like our new friends brothers, Ryan and Mark)
didn't mind it at all. But Ryan had to speak up when peeps started piling behind us when
Camy
also parked beside when she arrived around an hour later
(I promised her a spot)
. They had the right to raise a howl saying it was OK for them but what about the other people behind them? Camy pacified them by asking if it's possible to let one more person in the line and promising that that would be the last one. That last one also turned out to be a common friend of the girl behind Ryan.
At 9:20 am, good 'ol
Az
-meister sent a text message
(after a couple of messages asking how were we holding up)
bearing good news saying, "The gateway signing will be moved from the activity area level 1 to the Fully Booked store area, level 2 for security purposes." This message finally calmed our fears and confirmed our decision that we were at the right place. The mall opened at 10 and a staff of the bookstore came out and told us the priority numbers would be limited to only 150 and warned us not to let anybody in ahead or behind us in the line. That's good enough for us. Later she asked that we form two lines
(in a "buddy system" sort of way)
and start counting off. The count stopped at 120 and a lot of hopefuls were coming in from the mall doors, some of them weren't aware of the line forming outside as they inquired with the staff. Numbers were distributed at exactly 12 noon
(Mark, Camy, Nelz and me got numbers 5, 6, 7, and 8 respectively)
enabling some of us to take our lunch and run to the Writers' Forum in Greenhills before convening at the same spot around 3 p.m.
Fast forward to 2:35 p.m.
Patrick
came by to hang out with us (we like to call him the "Second Critic" after Lyndon), then the atmosphere outside the bookstore suddenly buzzed with activity as the staff and volunteers
(as well as the bouncers)
were running in and out of the doors telling us to fix the line. A little while later they started checking tickets to count the number of books that could be signed
(if you do have a ticket you could have the maximum of two books signed, if not then you can only have one)
. Az was a lifesaver for giving me an extra stub when he arrived a couple of minutes later with Camy saving me from a potential disappointment. Mr. Gaiman arrived sometime after 3 pm amidst more howlings and screaming and flashing of cameras. Security went into overtime. After some consultation with the staff inside the bookstore he went out and announced "some good news and not so good news"
(as he politely put it)
. The good news was that the signing would be able to start around 30 minutes early and the not so good news was that he had to forgo the book readings in lieu of answering four questions from the crowd. I forgot some of the questions but he was asked why he wore black
("I like to reserve my imagination for my stories rather on what I want to wear")
, why does he include a lot of mythical elements in his stories
("I've always been fascinated with myths, having grown up reading Norse and Greek myths... I'm currently reading Philippine mythology and it's a fascinating read. I didn't know these things exist... Someone gave them to me yesterday, eight books in all. I'll probably incorporate some of them in later works.")
Cue in more screaming and cameras flashing. He was very gracious and patient through it all, you wouldn't hear neither a sigh of frustration. And another thing I noticed was that he sounds a lot like actor
Alan Rickman
which I found really, really amusing and great.
Haha!
Then suddenly a dark cloud appeared. They're letting in around 50 people left over from Saturday's book signing ahead of us. To think that they arrived only around this time. But no matter how much we grumbled and complained about this new policy
(which they keep changing whenever it suits them, after telling everyone yesterday that today was a "free for all" thing)
we had no choice nor say in the matter and had to give in.
Booksigning line at the Gateway Mall, 7 am
The first twelve in line
Camy and her art
Answering questions from the crowd
The line started moving sometime later and before I knew it a couple of bookstore volunteers were briefing us on the signing: Mr. Gaiman can only write a dedication on one book and sign the other to accomodate as much people as he can. And we had to write on a piece of paper what we wanted him to write. Fine by us. Nelz and I got to laughing on the ideas for the dedication part. Nelz wanted to go with
"I hope to one day work with you on one of my books"
or something like that. I originally wanted to go with
"Watch out for the wolves!"
but I thought it too tame and copied Nelz's idea.
Camy getting her books signed
Nelz getting his books signed
Deliberating whether he would copy the dedication I asked for.
He still accomodated my request in a way. Hehe.
Here's the part where he said that liked his work of creating stories
First to go was Camy and Mr. Gaiman was so blown away by her artwork he held it for a while staring at it while talking to her about it. Then he later handed it to the owner of the bookstore and remarking that he'll have it framed. The
dedication
was a lame attempt at humor on my part
(though the volunteers thought ours was quite amusing)
. He did comply with Nelz's request after finding out that his was one of the runners up in the art contest
("It was hard and I wish they didn't ask me to judge. I could have picked the top 25...")
but when he was at a loss when he read mine. He started writing the words "One day..." then he asked me if I was an artist and when I said that I'm a cartoonist he said, "Let me see, I'll do this..." while drawing a huge word balloon over the words and then a profile of a wolf
(which I really, really wanted when I saw him do one on the book of Liz, the girl ahead of us)
. Feeling I had to say something, I just thanked him for the stories and he thanked me back saying that he also liked doing them. Then smiling I took his hand and shook it. Such a really, really, really, really nice guy.
Lico
, Az and Camy were already waiting outside and we were all dumbfounded by the magnitude of it all. Later Camy was shouting and jumping up and down how happy she felt that Mr. Gaiman more than appreciated her work. A couple of seconds later she started breaking down when she recalled his words that he'll have her work framed. She couldn't believe it and in between small sobs she choked the words, "He'll frame my work! Nobody freakin' frames my work before." We were touched at the sight and were genuinely happy for her. Then we went upstairs to the mall's foodcourt to get some grub while recounting the events. We were all talking non-stop and doing some fan art to be given to Mr. Gaiman
(which will be slipped in later into the box of souvenirs by Az)
when he spotted
Arnold
and
Cynthia Arre
and called them. They were with a friend took their seat on the table next to ours. In the course of our conversations Az asked Arnold to do one too. While doing his drawing he showed to us a
phone camera shot of him with Mr. Gaiman
and recounted the funny story of being inside the washroom at the third floor
(where the bookstore was)
when he realized that the person splashing his face beside him was the famous author himself. Not wasting his opportunity he called his name first and asked if it's possible to to take a picture with him. Mr. Gaiman nicely obliged and just in time too before the bookstore owner came in and forbade him from making any more pictures before ushering the author away. That incident was so strongly imprinted into his mind he set onto paper that one unforgettable encounter with a
thank you note
inscribed below.
Arnold and Cynthia with their friend
Arnold holding up his drawing
Arnold's fan art of Neil Gaiman
Crowds of curious folks refusing to go away
We went down afterwards to wait for
Syeri
,
Jon
and their friend,
Hanzel
to get their books signed
(fellow Denner, Joanah was also there but we never got to talk to her).
We talked about the experience for a while before going upstairs to eat. Mark, Patrick and me remained downstairs to watch the whole thing while Az went inside to slip our works into the box and take more pictures. We headed home sometime after 8:30, 15 hours after we first lined up. Exhausted but satisfied and very happy. Here are scans of the loot:
Hehe!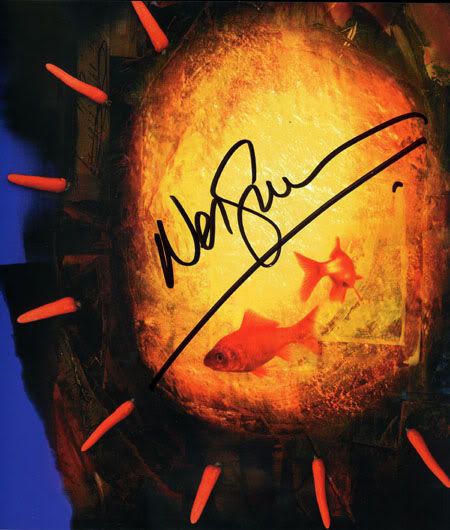 Wowowee!
I'm going to bed now. Good night.