Monday, August 08, 2005
Here are screenshots from This is a screenshot from the video of featured artist of the month and top fave band of all time,
Madness
. Although they're more known for their hit single from the 80s, "Our House," thei're a great singles band and it's such a pity their success in their native England hasn't crossed over to the U.S. and here in our shores. What isn't common knowledge is that they've predated local band,
Parokya Ni Edgar
in acting nutty in their videos. This band made a big impact on shaping my views on the comedic.
Here are a couple of screenshots taken from the videos of the song you're hearing now and the one from last week: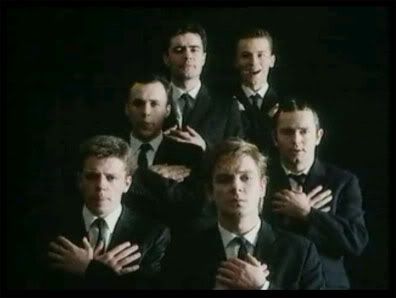 First up is
Michael Caine
. Somewhat serious in tone which reflects the other side of the band, the so-called dark English mood. Reeling from the recent departure of band leader and chief songwriter,
Mike Barson
who moved to Holland or Switzerland with his wife around 1983 or '84, the video is devoid of the trademark nutty flavor they're famous for. The vid pays homage to the old Michael Caine movies by way of making a sort of narrative about an undercover agent and his rivals chasing him around watching his every move.
This is from the video of the song playing last week in this blog,
Uncle Sam
. This came from the album after El Barso's departure they seemed to have recovered well enough in this one and are back to their old form. Devoid of fancy-schmancy special effects the vid shows them having fun playing with miniatures, turning a quiet neighborhood into a makeshift warzone complete with old school movie explosions
(ie. no fire, just a lot of smoke)
and an
Assault Amphibian Vehicle
they set sailing on London's
River Thames
. This video is a lot of fun to watch if only to see them doing something they really love doing, making complete fools of themselves.