Saturday, August 13, 2005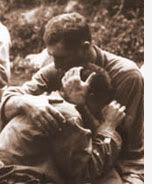 There's this design on one of the shirts being sold by
Fig Tree
in Megamall that gets to me everytime I see it. The graphic on the shirt is simple but the statement says it all: "
Friends Don't Let Friends go to Hell
." Which brings to mind a song by a local rock band,
Pigs With Pearls
about a poor soul's lament because he hadn't heard the Gospel's saving message he's now languishing in the pits of hell all because although his friend shared a lot of things with him he never took the time to share the most important message with him. I forgot the lyrics but the last line in the song goes something like, "After all we've been through I don't think I could ever call you my friend."
We're all familiar with the famous line first uttered by
Edmund Burke
,
"All that is necessary for the triumph of evil is that good men do nothing."
I've heard of it and admired the truth contained therein but this is the first that line hit home. And because I know and realize that the end is nearer than what most people believe is, to say the least, disturbing, but the fact that I'm not doing anything to make people realize that is what's bothering me. It's bothering to the point of being scared. Scared of the fact that I would be confronted and asked not of what I did but rather what I didn't do. It doesn't come as a surprise to know that everything in this world is not going to get any better than it did in the past decades and as a matter of fact is going to turn worse till it reaches a point that
God would have to personally intervene to cut it short or else nobody would survive
.
Of course there are other things bothering me these days, this is just one of two that's bothering me a lot and I'll focus on this one till I get an answer on the other one. Although a lot of people profess to believe in God, not a lot put Him in their list of priorities. In fact we all have our priorities screwed up, instead of tending to those that have eternal impact we rush around taking care of those things that won't matter after we're dead.
We all like to think that this life isn't all there is to it when it's really not
!
On the other
(extreme)
hand it's also a time of excitement for me. Because God is coming very soon to snatch His own and take them home to be with Him forever. This is what concerns me, I know that time would be a joyous one, a time of great celebration in fact but what about my friends? I don't want to be one of those Christians who turns their faces against those who need it the most. I don't want to be one of those Christians who was given an opportunity to share the greatest news in all history and failed to do so because they were so scared of being ridiculed and embarassed. I don't want to be one of those who don't care about other people at all:
When it comes to the greatest sign for the rapture, I firmly believe apathy is the most reliable indicator of the "blessed hope's" nearness. Because apathy is something of an anti-sign, most people fail to realize how much the Bible talks about this subject.

The Lord Jesus told the disciples several times that

He would come at a time they would not be expecting Him

. Paul gave the same warning, telling believers they needed to be ready because

the final hours would come like a thief

.

The state of apathy is confirmed by the number of emails I receive from frustrated Christians who write me to express how perplexed they are over the general lack of awareness. Here is a sample message:

"I am sad because I have very few people with which I can share this immense joy that we are so close to going home that it is so palatable in the air. I am angry because of the lack of people to share this immense joy with. It is not that the other Christians aren't able to see the time which is at hand. It is that THEY DON'T WANT TO SEE!!!! They are too preoccupied with living in the world, and they don't want to be bothered by the fact that Christ is coming back soon."

I don't get frustrated by the lack of concern. Because apathy is one of the latter-days prophetic indicators, it obviously will increase as we get closer to the end.

With apathy appearing to have reached a saturation point, it would seem reasonable to conclude that we are very near to the rapture. The trick is getting other Christians to realize this fact.

Because time is rapidly running out, we need to ask ourselves, "Am I part of the crowd that is apathetic?" The test of our productivity level is how our lives relate to helping to fulfill the Great Commission. *
I know this undertaking would not earn me a lot of new friends in the long run but if this opens the eyes of those who matter the most to the truth of the Message then so be it.
"When we preach on hell, we might at least do it with tears in our eyes."
~
Dwight L. Moody
* Excerpt taken from
Todd Strandberg
's commentary "
The Greatest Sign for the Rapture
."