Tuesday, August 23, 2005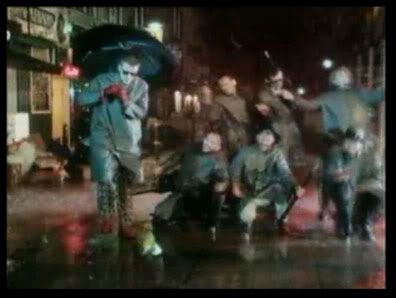 This is another screenshot from the video of the song,
The Sun and the Rain (1983)
by the ska group,
Madness
or "The Magnificent Seven" as they're affectionately called back then by their fans. Paying homage to the gloomy London weather, they make a fun video that shows them dancing in the rain with uniform raincoats, hat, and umbrellas intersected with scenes of a man dressed as a mountain explorer with a lit rocket on his back running down the streets, and all of them dressed in red tights up to their faces playing their instruments inside the ear canal. It doesn't make sense, I know. But most of their videos never did at all.
Hehe.