Tuesday, August 30, 2005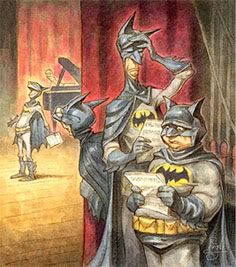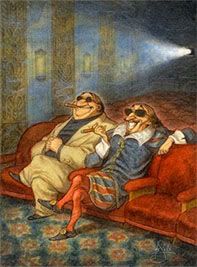 Two unrelated editorial works:
Batman - The Musical
and
Tights, camera, action!
I added another link to the list on the left. One of my favorite artists whose works I've been seeing on the covers of New Yorker Magazine and art books ever since forever,
Peter De Sève
. He didn't have a website before and searching for his name for sample artworks some five years ago has been an exercise in futility, thankfully that has changed. Here's a short bio I copied from his site, apparently he has been busy these past years, illustrating not only for different publications but also for biggie animation studios as well:
De Sève has designed posters for Broadway shows, as well as characters for numerous animated feature films, produced by Disney, Dreamworks, Pixar, and Twentieth Century Fox (Blue Sky Studios). His credits include The Hunchback of Notre Dame, The Prince of Egypt, Mulan, A Bug's Life, Tarzan, and the box office hit, Ice Age, for which he created all of the characters. In addition to his extensive work in animated feature film, de Sève has provided designs for television commercials, including a Nike spot, titled "Destination Moon," which won a silver Clio award. In 2002, he received the distinguished Hamilton King Award from the Society of Illustrators.
You can see a good bulk of his character designs and other works in his site. Incidentally you'll recall his works is similar to that of another illustrator cum animator back from the 80s whose works came out in MTV,
Bill Plympton
.