Saturday, September 17, 2005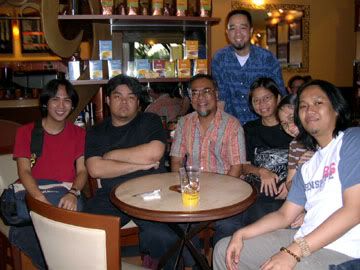 (left-right) Ryan, Patrick, Mr. Jundis, me, Mrs. Jundis, Syeri, and Jon
This has been quite a day, we've set up a meeting with two people from the same comic book background at Gloria Jeans, Araneta Center. The first one is a publisher who fell into hard times and is understandably skeptical about our attempts to pull off a
komiks
related event. He was chuckling and grinning whenever we told him that though organizing the whole Komikon event is hard sponsors have been pouring in offering support
(with the help of friends, of course)
. Somewhat convinced of our sincerity and the effort we've been putting he offered a deal we could work out to help his group get into gear and promote our event at the same time. The second is an old writer-komiks collector who grew up in the U.S.
Melch
introduced him to us
(this is the same guy who found my college classmate and Combatron creator, Berlin Manalaysay)
and I set up the rather impromptu meeting earlier. His attitude towards the Komikon was completely different from the first guy we talked to. He was so excited about the whole thing he offered to help us with materials he gathered from attending different conventions throughout the years. He even offered to get in touch with the family of komiks great,
Francisco Coching
for us! That last meeting definitely buoyed our spirits up and we'll be meeting with them again hopefully in the near future so we could put a lot more details into the whole thing.