Wednesday, November 02, 2005
We just finished watching "Chicago" down on 50th street and I don't there's much to say about it especially if you've already watched the movie. The show was slated to start at around 7 pm and after a short break in the hotel room me and my mom walked the length of the streets from 34th street to the theater near Times Square. The theater wasn't that big although it's packed to the rafters. I wish I could have taken better pictures but the battery of my camera conked out even before it started. I took some pictures using my phone though: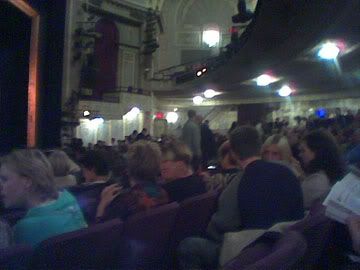 Waiting for the play to start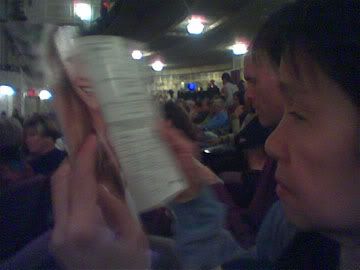 My mom browsing through the programme
The old lady acting as an usher shushed me to cease and desist from taking any more pictures right after this last picture. Like I mentioned earlier, there's not much to be said about the play mostly because of the fact that there were barely any breaks in between the musical numbers, there weren't any costume changes, and there weren't any scenery changes. It was like we were watching a rehearsal. No offense to those who loved the show, this is just my personal opinion about the whole thing. We were so bored of the whole show I was tempted to nod off in the middle of the show and sleep. But two things stopped me from doing so: I was afraid I would snore and I paid around $53.75 for a ticket and there's no way I would sleep through that amount. I saw my mom nodding off in my peripheral vision so every now and then I would tap her leg to wake her up.
It wasn't that bad a show, to be fair about it. The choreographed dances were great and there was one of the best known icons during the 80s,
Huey Lewis
performing the role that Richard Gear essayed in the big screen. He looked really old though. Here's the clincher, we thought we already missed
Brooke Shields
' performance in the play
(playing the role of Roxy Hart)
since her stint was supposed to end Oct. 30 but about two-thirds into the play, I thought that that broadway stage actress looked a lot like Ms. Shields. Imagine my shock when it was revealed to be her right before the big number! Cameras were flipped out after the show and Ms. Shields offered to raise some money for the theater union on this last night of hers! Good thing I didn't sleep through everything. Aside from giving the highest bidder a chance to take his or her picture with her backstage, she offered the pair of earrings she was wearing as giveaway. It was unfortunate that my digicam conked out so this was all I got: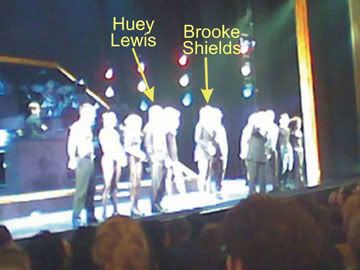 Wow!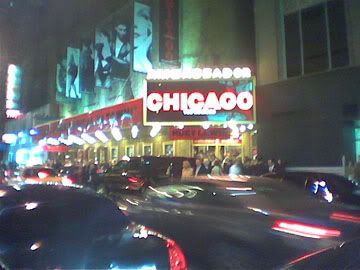 Outside the theater after the play
It was a very big surprise for all of us. The auction part of the show was fun and although everyone was shy about bidding at first, it started to build a momentum from eager audience members till it reached $700.00. Additional funds were requested and for a minimum amount of $25.00 donation they'll throw in a free CD soundtrack of the show along with a poster signed by the whole cast. Me and my mom walked all the way back to our hotel afterwards. I stopped to buy a chocolate milkshake at the nearby McDonald's before going up to our hotel room.
* This is a retro entry posted at 2:09 pm on November 24th, 2005.