Saturday, December 31, 2005
Me and my brother went to
Tiendesitas
with
Trevor
and
JP
in the afternoon after paying a short but memorable visit to
C.H.I.L.D. Haus
in the morning
(I'll tell you all about it one day)
. They only have a few days left so we thought it would be good to spend time before they fly back home. We browsed around looking for packed food samples they could bring back home like coconut jam,
pastillas de leche
,
chichacorn
, etc. Some of the stalls offered free sampling of the food they sold that helped the decision making go a bit faster, we had to haggle with those that didn't. Then we're off to eat lunch in the foodcourt located in the middle of the place
(for the benefit of those who aren't familiar with the term, a "foodcourt" is a huge dining enclosure usually found inside a sizable commercial area, they term was first used by SM Malls)
. We each made an order from two different food stalls that we also shared with each other. Trevor made the compliment that we make the best pork barbecues he's ever tasted and he also liked the
Nilagang Baka
that we got.
Near the end of the meal we got to talking about chilies and we told him about the
siling labuyo
being one of the hottest in existence. He didn't know what it looked like but all the same he poo-pooed the talk saying it couldn't be as hot as the one he ate before
(I forgot the name)
. Incidentally there was a bunch of them in the condiments section beside our table so we got the container, he picked the green one over the red and made a dare that he whill eat the whole thing if JP would treat him to a mango shake later. JP refused to give in to this inanity but my brother thought it would be fun to see Trevor eat it and offered to buy the shake if he did. I seconded it and readied my camera. He asked if it's alright if he just bit the end, which is OK as I told him that the seeds contained the oil that made it spicy. He was relaxed as he enjoyed the stuff. It wasn't too hot. No big deal. He even dipped it into the fish sauce I poured in a small plastic cup. Then we talked about the concept of
Tiendesitas
which he also liked, we filled him in about the other sections where they could buy native products and the pet stores where you could buy exotic pets like scorpions and tarantulas. He finished the chili a few minutes later but the spiciness didn't kick in till a few seconds later. He was sweating and tears were running out of his eyes on the way to the fruit shake stall, that's where he finally conceded that indeed it was the hottest he's ever had.
They serve the biggest and best barbecues in this place
Mouth-watering local dishes in this one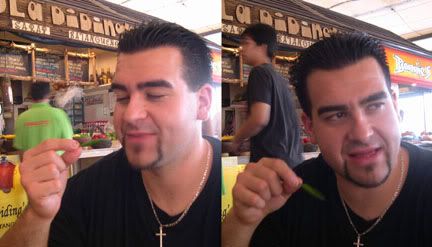 Not only did he munch it, he savored it.
Fresh bibingka on pink coals. Lovely.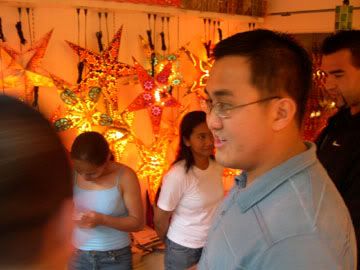 Haggling for capiz lamps in this store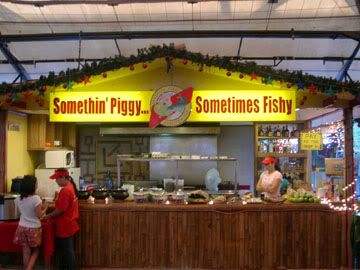 Ummm...
right.
We continued our rounds after that stopping by one of the stores selling colorful these
capiz
table lamps
. They haggled for a while but eventually settled for the last price the saleslady gave. I also got to talk to a pet store owner that was selling a
Siberian Husky
puppy among others
(she's selling females for Php 30k while males go for Php 25k)
. While I still prefer German Shepherds, the ready availability of Huskies sort of changed my mind about getting it first. After a couple more rounds Trevor asked me to show him the tarantulas they were selling in that place before we got too far. Taratula afficionados might be interested that sside from the
cobalt blue
variety, they're also selling what I think to be a
King Baboon
or one of those baboon types
(we were informed that they're poisonous)
. After going a few more rounds we stopped by one of the
Zagu
stalls before heading for home, we could have stayed longer but they have a church service to attend in Galleria. Me and my brother also attempted to attend a church service but since he thought that a church service was also going to be held at
The Fort
turned out to be a false lead we settled with bringing a couple of Christmas gifts to his friends near our place. We'll be having an early dinner in Makati tonight in lieu of the traditional Media Noche.
Happy New Year everyone!
Friday, December 30, 2005
Today was one of the funnest and most memorable this year. It was a complete contrast to the previous weeks as if God was telling me that everything's OK but I should know better next time that I've shouldn't be such a selfish boob who's seeing things through tunnel vision instead of His. Nothing smacks my head to realization harder than this. We had another party gathering on my dad's side of the family and though I originally planned to stay for a couple of hours at my cousin's house in Pasig before heading out to Cubao for our Den meeting later that night was abruptly changed. But time flew so fast and what I previously thought to be just another typical family gathering turned fun when everyone started swapping jokes and playing games on each other. Me and
Trevor
got to talking about taking pictures and that's when I found out that he's planning to explore the possibilities of the medium as an artform not just taking snapshots of everything here. When we've had enough of the food they brought out
Cranium
! We divided ourselves into two groups and had the fun of our lives answering trivia questions, drawing answers, sculpting them in clay, playing charades, performing the answers and laughing so much that I almost forgot that I have someplace else to go
(pssst! guys, forget the DVDs, let's play this one on my birthday!).
Three hours later most of them visitors had to go home. But since it was still early to just go home and do the single guys in the group talked about going out to hang around and chill in either The Fort or Eastwood City.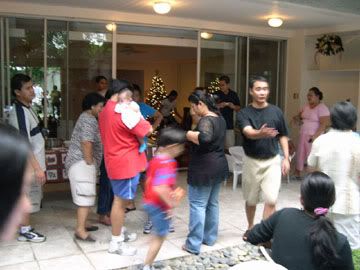 Getting the party started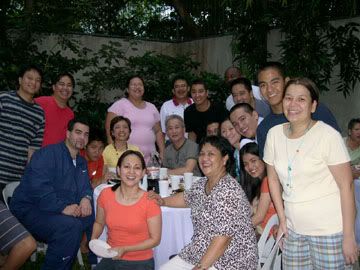 Hail! Hail! The gang's all here!
Trevor with one of my nephews.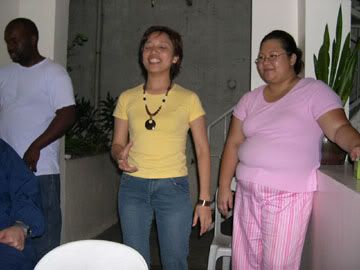 Playing charades as part of
Cranium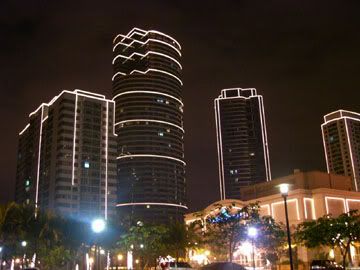 Holiday lights at Rockwell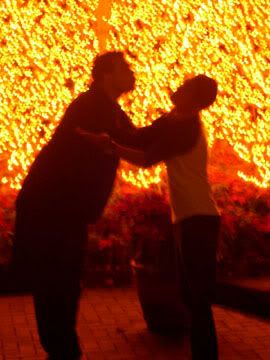 Trevor and my nephew, John fooling around
Backsync Zone
Going home now
Me, my brother and his girlfriend went home first to rest a bit and get the car. It was about that time that
Lico
called me on the phone asking where we are. I apologized and told him that I wouldn't be able to join them and the others are probably still coming over. After that I saw the text message
Lyndon
sent informing me that they're in
Dencio's
with
Jinky
. I called her up and apologized for the delay in the artwork she's asking from me and also informed them about the situation. After a while we went out to pick my nephews and Trevor from my cousin's house. We then proceeded towards Rockwell discussing about a lot of things. Particularly about book titles that are worth reading, their job and life in San Diego, etc. We also took them out towards the huge Christmas tree near the mall where we took more pictures and chatted for a while before heading home some minutes ago. We'll be seeing each other and hanging around again tomorrow.
Thursday, December 29, 2005
I took the
THE NERD? GEEK? OR DORK? Test
because I had to know. It turned out I'm...
Joe Normal
39 % Nerd, 47% Geek, 39% Dork

For The Record:
A Nerd is someone who is passionate about learning/being smart/academia.
A Geek is someone who is passionate about some particular area or subject, often an obscure or difficult one.
A Dork is someone who has difficulty with common social expectations/interactions.
You scored less than half in all three, earning you the title of: Joe Normal.

This is not to say that you don't have some Nerd, Geek or Dork inside of you--we all do, and you can see the percentages you have right above. This is just to say that none of those qualities stand out so much as to define you. Sure, you enjoy an episode of Star Trek now and again, and yeah, you kinda enjoyed a few classes back in the day. And, once in a while, you stumble while walking down the street even though there was nothing there to cause you to trip. But, for the most part, you look and act fairly typically, and aren't much of an outcast.


I'm three precent away from being a borderline geek. That's a relief. Hehe...
Wednesday, December 28, 2005
We had a reunion with my dad's side of the family this time along with the cousins and nephews and nieces who came over from the U.S. We had them over the first time last Saturday with a small welcome party here at our house and it was quite an experience for half of them who came over for the first time to the Philippines
(our neighbors were prepping their food on the street for a "fiesta" style Christmas Eve party. They were, at the time, roasting two pigs and cleaning some of the innards in a bucket)
. The dinner earlier at Market Market included almost all the entire clan and by mom's account that's around 50 people right there.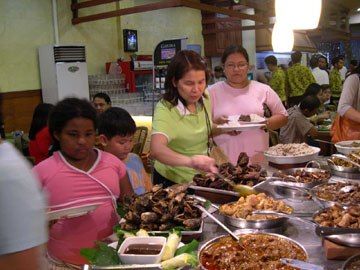 (Left-right)
My grandniece, Hannah, nephew Marco, cousin-in-law, Ate Gigi, and niece, Pia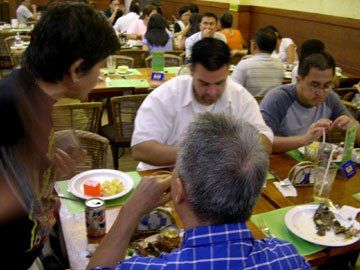 Trevor and JP with my 'rents.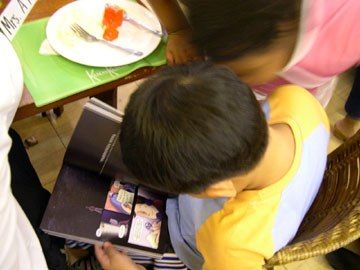 One of my nephews browsing through the pages of Siglo
Grandniece and nephew, Hannah and Isaiah.
Thid of the clan from my dad's side
I showed them the pages I did for
Siglo: Passion
, but aside from the kids only one of them showed particular interest in what I did. That's my nephew's roommate,
Trevor
(an American on a first time visit)
whom I also got to know well after helping him pick out the edible food
(e.g. none-exotic food)
in the buffet table. He got to know and accepted Christ at the age of twenty after mulling the direction his life was going to. I also got to know my grandniece and grandnephew well after engaging the both of them in a lot of talk. Although they can understand Filipino, it's my fault that I keep forgetting it and kept talking to them in english. We finished around past 9 pm and went our separate ways, I don't know if they someplace else but my sister thought that it was too early to go home so me, my mom and dad slowed down to have a nightcap in Rockwell till we were tired enough to go home.
This is the first freestyle drawing I did in a couple of months. Yey!!! I should do this more often.
Tuesday, December 27, 2005
I've dabbled in editorial cartoons in the mid to late nineties, doing a couple for
Philippine News
so I've got a pretty good idea how important
(hard)
it is to present a compact view of the headlines in just one cartoon panel. Some of them are good, some fail to make an impact and there are the rare ones that make you laugh and think at the same time. To these fellow cartoonists, I tip my hat in salute for doing an exceptional job.
Editorial cartoon by
Michael Ramirez
.
Editorial cartoon by
Steve Benson
.
You can click the individual images to see more editorial cartoons pertaining to the issues involved.
Monday, December 26, 2005
I made it to to Gloria Jeans Coffee in Cubao an hour later than the time we agreed on. The Beerkadets
(fans of the strip "Beerkada")
were having a year end gathering at that place today being a holiday and all, besides there may be some questions or discussions waiting to happen about the stuff being displayed. It was still a pretty quiet affair which suits me just fine too since I'm not into big crowds. Some friends joined too like
Patrick, Syeri
,
Jon
,
Lyndon
,
Lei
, and
Lico
among others.
Jinky
also brought some goodies for which I'm truly and utterly grateful
(I got a cool
Mutts 2006 Calendar
! Yey!!!).
Here are some pictures from tonight's activity: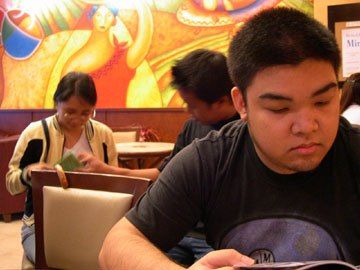 These are but some of my artist friends
The gallery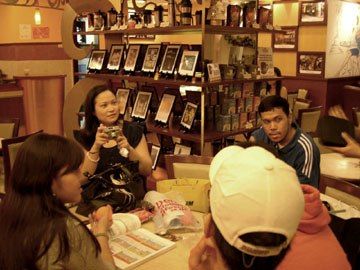 It was nice to see them again after a long time.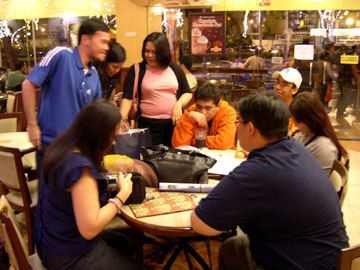 Winding down
We had dinner at Gateway Mall afterwards before going back to Gloria Jeans again to wait for the others who are yet to arrive. We enjoyed our time laughing, swapping stories, and generally enjoying each other's company in the afterglow of the holiday season. I've still got time for the gallery if you want to go there and view it, perhaps buy a framed art or two.
Sunday, December 25, 2005
I was planning to watch
King Kong
yesterday as soon as the party was over but plans have a way of screwing themselves so I now have to wait around three weeks before the local movie lineup goes back to normal
(like all Metro Manila Filmfest entries are something to crow about anyway)
. I'm hoping against hope they'll bring back the big ape next year after these movies are done, then there's also the "Narnia Chronicles" and "Family Stone" to look forward to. Today's a lot better than the previous ones because we went to spend Christmas in my aunt's house in Malolos, Bulacan. She's one of my favorite relatives and going to their house in Malolos is always a treat for me because it's laid back, quiet, restful, and the fact that I get to explore their backyard everytime adds a lot to my looking forward to going there. Another reason is that the relatives on my mom's side of the family are mostly artists or at least lean towards the arts so we understand each other a whole lot.
The only thing that bothered me today was when I remembered I left to take the battery to my camera
(it was even freshly charged)
so I had to do with the ones my younger brother and sister brought with them. We arrived a little before noon to a home cooked meal that's so scrumptuous we didn't waste any time sitting down around the table and partaking of the table spread. Afterwards I went out with camera on hand to hunt for subjects I could immortalize and post in
my dA page
. I also came across a friendly cow that started rubbing its head on me when I petted it like a dog.
My uncle checks out the pages of
Siglo: Passion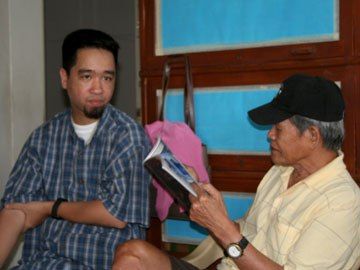 Another uncle
(the sculptor cousin of my mom)
also browsing "Siglo"
Another uncle we never met did this, he died recently.
A colored charcoal sketch of an old movie star done on felt.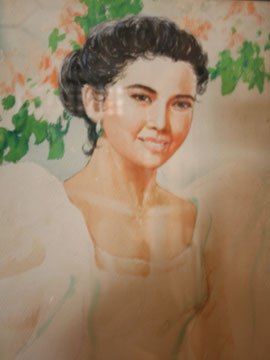 Framed artwork done in watercolor by the same uncle.
Family picture with some of our relatives from my mom's side.
There were also a couple of surprises like an uncle of ours did a couple of works that we never knew existed. One of these were a bunch of back scratchers carved from the wood of a guava tree
(they're one of the hardest to carve, cut or even scratch if you're not familiar with it)
. I'll take a picture of these back scratchers around next week and post them here. There were also paintings hanging at his son's house that we documented for posterity. By the way that uncle of ours is related to us down the line of my mom's family, I think he's already a second or third degree relative. My other uncle
(a cousin of my mom, the one with the hat in the picture)
is also an accomplished sculptor who uses terra cotta as a medium. He did some huge monuments in historical parks scattered around the metro. Being surrounded by artists didn't deter me from showing them my contribution to
Siglo: Passion
. Especially since I used my lola's house there in Malolos as background in the pages that I did. We went home mid afternoon, stopping by one of the gas stations-turned-rest-stop/commercial-areas dotting the North Expressway for some snacks.
Saturday, December 24, 2005
This would have have been anything but yummy if I didn't eat tuna sushi and sashimi. As it is, it's a fascinating centerpiece while we picked around its surroundings looking for something good to eat.
Merry Christmas everybody!
Hope you all enjoy the happiest day of the year!
I found this interesting flash video of
Billy Joel
's "We Didn't Start the Fire" recreated by what I think to be a college student with a lot of time on his or her hands:
The original video by Mr. Joel was interesting enough but this one's loads of fun! Found the link via
This and That
.
Also, I'm sure one way or another you've all heard about the rumor regarding local alternative band,
Orange and Lemon
's composition for the hit song, "Pinoy Ako." That it sounds a lot like an old song composed by a foreign band. I love the song and all but sad to say the rumor was probably founded on truth
(I say "probably" because I've haven't heard O&L's side regarding this one)
*. The band whose music "inspired" the melody for the song is
The Care
(they're a British new wave group who came out with memorable hits like "
Flaming Sword
" and "
Whatever Possessed You
" among others, the duo later broke up to create other bands, The Wild Swans and Lightning Seeds, both of which became popular in their own right)
. The song in question is titled "Chandeliers." See and judge for yourself by hearing the two songs playing side by side uploaded in this link:
Pinoy-Chandeliers-Tayo
. The full version of "Chandeliers" is the one playing on the left speaker, and an almost complete "Pinoy Ako" on the right
(Quicktime player needed)
.
* I came upon an old issue of "Seventeen" magazine and in the interview granted by the band, they said the lyrics were already provided for them and they were tasked to compose the music for it. They didn't elaborate their answers.
Friday, December 23, 2005
I haven't been in the mood to draw anything for the longest time. In fact it started ever since we came back from a long vacation. I don't have the patience to think of building up a joke and drawing characters over and over again. It's become quite a chore I have to do not because I want to but because I have to.
On the journal I posted dated November 28 in my deviantART page, I said that I would be posting more photographs than comic strips and toons in the coming days ahead. The reason for which I offered was
"Because I have a lot of them stored in my brother's harddrive and it would be a shame not to put them someplace where anybody can see them. Secondly, I'm not much in the mood for drawing stuff . While with photography, you have minimal problems with the creative part. You don't feel like picking up the pen/cil? Take your camera and express your mood with it. The subjects are almost always available and with the advent of digital cameras, you'll be able to judge in seconds if your piece is worth keeping or not."
Art is such a personal thing I can't help but feel slighted even with a bit of criticism. I usually take criticisms coming from non-artists harder than fellow artists. Probably because I know they know what they're talking about so they're more in the business of telling me what needs improvement. Of course I still do have to sort through what the others are saying, that prevents my head from soaring up in the clouds.
The third reason I gave for not drawing had something to do with the weather:
=
which usually flushes any creative mood down the toilet. But now that I think about it, it's been weeks, the weather's the same and I realized I'm living under a dark cloud that refuses to go away. We all live under one in one way or another but I'm not like those that can expertly hide its existence by denying that they're living under one. Right now its refusal to budge obscures any light needed for artistic inpiration to come through. That's where I ask myself if it's all worth it because right now I don't feel it's very much appreciated by those who should have been the first ones to do so.
Thursday, December 22, 2005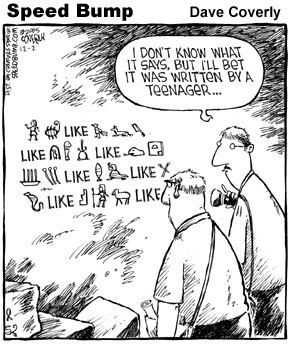 Another one from my favorite strip titles. This one came out last December 2.
Wednesday, December 21, 2005
This is half of what's appearing in
Philippine News
today. It's still unfinished as I've yet to color the skin and finish details over that in the second panel. Try looking around the newspaper racks of Starbucks around the Metro to read the whole strip and the one I did in advance for next week.
Tuesday, December 20, 2005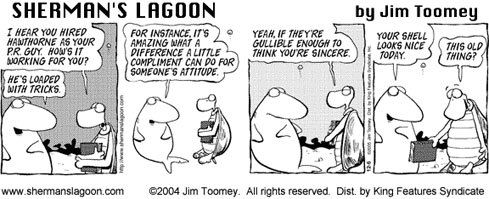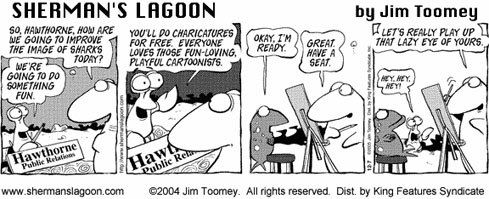 This is one of my favorite titles and these came out last week Tuesday and Wednesday. Click the image to open another window to see an enlarged version. I haven't done any new sketches today so y'all have to do with these hilarious strips.
Monday, December 19, 2005
Me, my sister, and mom went last night to this place called
Tiendesitas
(which I think came from the the Mexican word "tienda" which means "general merchandise store" which in turn gave birth to the Tagalog word "tinda" which came to refer to the merchandise than the place, so I'm guessing "tiendesitas" mean "a group of small stores"?)
. This is located along Libis near the Valle Verde group of subdivions along Julia Vargas Avenue. We went there late at night right after watching a movie, and the one thing I observed about it is if ever the Greenhills area has any serious competition as king of bazaars, then this would be it. The prices are reasonable or at least the same as those in Greenhills but the big difference is that the whole place is divided into categories, in one section you have the clothes and accessories, in the other you have local crafts, then pet stores
(one store even sells Cobalt Blue Tarantulas and Scorpions contained in neat plastic packages)
, a huge dining and entertainment area, another area is packed with care packages, etc. making shopping a lot easier than it already is:
Welcome sign
Holiday crowds doing some not-so last minute Christmas shopping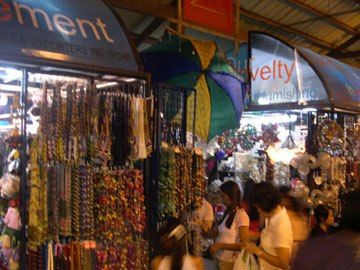 Local merchandise that makes the Filipinos proud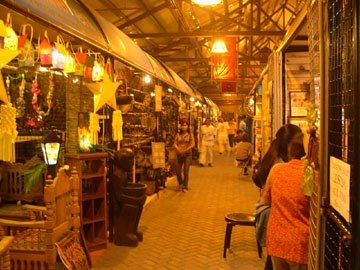 Local products section
It's already late and people are still arriving
This was the first time I've been to this place
(there's that other place called,
168 Shopping Mall
that die hard bargain hunters swear by, that is if you can stand the lunacy of diving into last minute shopping)
and I'm fascinated by the almost infinite variety and neat categorization of wares. We spent around two hours in the whole place and it feels like I haven't explored half the place. My sister got neat-o bead necklaces for her friends, ref magnets with small weaved baskets and sea shells which makes for a great souvenir for "balikbayans" and visiting foreigners, while my mom got sandals
(she calls them "step ins" which draws some giggles from my sister which thinks is a dated term)
and Christmas wrappers, while I held off any purchases until I saw everything. I was looking for a German Shepherd but I could easily settle for one of the cockatoos there.
Sunday, December 18, 2005
Gordon, Audebert, Horstmayer, and Sprink discuss an unprecedented truce because of Christmas.
I first noticed the poster of the movie,
Merry Christmas (Joyeux Noël)
, last month on the way to watch
Flight Plan
and what I thought to be an unusual holiday greeting from a mall showing three soldiers marching side-by-side turned out to be a movie that piqued my curiosity. I resolved to watch this on my own if I can't find others to watch it with me. I finally got the chance to catch it earlier tonight. It's a French film with subtitles all throughout the movie except when the Scots who talk in english are shown. It starts out slowly but immediately lays down the groundwork for the audience to know that war has been declared in three countries: Scotland, France, and Germany. The year was 1914 and those who received the news had different reactions to the news. Some of them were happy that at last something exciting has come to break the monotony of life in a small village but for the others, fear and worry were written all over their faces.
Fast forward to December, the bitter cold of winter hasn't slowed down the fighting as the German army has already occupied parts of France. The battlefield is located in the countryside where the French, German, and Scottish army has built their trenches within yards of each other. Leading the French army is
Lieutenant Audebert
(Guillaume Canet)
, a young husband worrying about the status of his pregnant bedridden wife behind enemy lines, he left their home during the last month of her pregnancy and he was anxious about news regarding her welfare and their child. He's also a sympathetic man and a sensitive artist who took down to sketching everything that interests him in his little notebook. On the other side the Germans were led by
Horstmayer
(Daniel Brühl)
, a Jewish officer concerned more about their taking over the land than anything else and the Scots were led by
Gordon
(Alex Ferns), who sympathetizes more with the morale of his men than what his supreriors order them to do. Other characters that weigh in on the story include
Nikolaus Sprink
(Benno Fürmann)
and his lover,
Anna Sörensen
(Diane Krüger)
, who are both famous German opera singers. Nikolaus was enlisted in the army and although he wanted to do his part in the war as his contribution to the German Crown he was belittled and, as much as possible, pushed to the rear by his commanding officer who prefers anybody but artists to be soldiers. Then there's
Ponchel
(Dany Boon)
, a former barber and Audebert's confidant who sets his alarm clock to 10 am everyday so he wouldn't forget his scheduled tea time with his mother even after the war, and on the Scot's side there's
Palmer
(Gary Lewis)
, an Anglican priest turned stretcher-bearer who'd rather spend time with the army on the front rather than with his parish, and
Jonathan
(Steven Robertson)
, Palmer's former church-aide who mourned the death of his brother.
The story was based on a
true incident
that happened during that time in the first World War,
an unprecedented truce that happened on Christmas Eve
. It all started when Sprink was recalled from the battlefield upon the request of Sörensen to perform before the German Emperor
(Kaiser)
Wilhelm II. Sprink was reluctant to leave the army and thought it selfish that he should enjoy good food and warm surroundings while his companions suffer the cold on the eve of the most important day of the year. He informed Anna about his plans to go back to the front to also perform for the army but she wouldn't let him out of her sight and asked that she also go with him. His presence back at the front alarmed Horstmayer but gave in after some prodding. The Scots at the time were also enjoying a meal and were having a good time listening to bagpipe music played by Palmer, while a spy was dispatched by Audebert to crawl in "no man's land" towards the German side to sabotage their machine guns. When Sprink stood above the trench and started singing "Silent Night," the Scots were silenced and listened to the melody. Although they couldn't understand the words, the music was all too familiar to them. When it was finished Palmer volunteered a few notes of "Hark! The Herald Angels Sing" on his bagpipes on their side of the trenches. This was a pleasant surprise for Sprink, he started singing along the music, took one of the Christmas trees lining their trench and boldly walked towards the middle of "no man's land." Horstmayer was incensed and demanded that Sprink return to their side but he was also caught by surprise when he heard clapping on the side of the Scots who were now sitting on top of their trenches minus their weapons. Gordon was the first to approach after a tense filled silence, then Horstmayer. They were already discussing for a short period before Audebert thought it wise to approach and see what it was the two sides were talking about. What was initially proposed was a temporary ceasefire between them all for the sake of the holiday season. That started the ball rolling and soon their men from all three sides climbed out of their trenches holding wine, chocolates and whatever they have that they could offer to the other side as a sort of peace offering. Soon enough, they were all hearing mass officiated by Palmer. But even in the middle of this peaceful scene, Jonathan was mourning over the dead body of his brother trapped blinded by grief and trapped behind his anger towards the Germans. But what they all thought to be a shortlived ceasefire extended the next morning when they were all unwilling to fire the first shot. In the middle of the silence and haze, Jonathan was found trying to dig a grave for his brother. This broke Gordon's heart and he approached Horstmayer and asked for another round of talks. Audebert joined them over coffee provided by Ponchet and they all agreed to a truce while they all sorted out the bodies scattered in the middle of the field and give them a decent burial. But it didn't stop there, soon they were alternately playing soccer with a makeshift ball, exchanging stories and addresses, and entertaining each other with tricks. Horstmayer even went out of his way a few days later to inform both the Scots and French army that their side was bombing their trenches a short while later and offered them sanctuary on their side. Gordon offered the same after realizing that their side would also retaliate. They all went their separate ways after this and to avoid their being separated by the army officers Sprink and Sörensen voluntarily offered themselves as prisoners of the French army
(Sprink was ordered arrested by his superiors for deserting the party without permission)
. To say that their superiors weren't happy with the truce was an understatement when they found out about it. The three commanding officers were heavily reprimanded, the troops were dissolved and a new rule was put into place to prevent another truce from ever happening again.
I can't even begin to tell you how touching this movie is except maybe relate to you that when lights were turned on in the cinema at the end of the film and the credits were rolling, nobody, as in
nobody
was moving in their chairs. Nobody was willing to stand up lest the solemnity of it all would be disturbed. It's really that good and I really encourage you to watch it in the big screen while it's still showing.
* Related article:
Remembering a Victory For Human Kindness: WWI's Puzzling, Poignant Christmas Truce
** If you're searching for pictures from the film, browse through the
New Zealand Cinema Guide
, and the french site,
AlloCiné
.
*** Here are also some
photos taken from the German premiere
**** Check out also the review in
Hollywood Jesus
for more insightful reactions to this great movie..
Saturday, December 17, 2005
Still no change earlier today. I took advantage of the midnight closing of the nearby mall to help myself think and assess the situation. Bought the new double CD compilation,
Singles
by my favorite band,
New Order
along with a couple of books that I'll be sending to my best friend in the U.S. Strange that they would be selling the CD for Php450.00
(which contains 31 songs)
as opposed to their earlier double CD compilation,
Substance
which sold for Php900.00
(which only contains 24 songs)
.
Friday, December 16, 2005
Opening night's a lot quieter than what I expected. The whole affair was what I branded as "intimate," with just a few friends in attendance. Well, they don't call this the busiest season of the year for nothing.
Thursday, December 15, 2005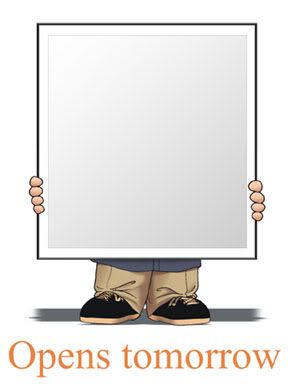 The
Gloria Jeans Coffee
in Shopwise, Araneta Center is having their annual staff Christmas party later so they'll be closing earlier at 7:00 pm tonight.
I'm supposed to do some flyers intoducing myself and explaining what the exhibit is all about but I guess there's not much time for that now since I've already drained most of my resources preparing for this exhibit.
Should I be explaining it in the first place?
I'll probably just say that my reasons are my own and leave it at that. But that would sound pompous and probably spark disinterest in the whole project. If you must know the whole project isn't about me. It's a showcase of what I've done and a thanksgiving celebration of sorts for the talent bequeathed to me.
It's called "cartoonography" for two reasons, the first and most obvious of all is that it combines both some of the drawings I did and photographs I took both here and abroad
(particularly our most recent trip to the East Coast last month)
. Second, it may also refer to the rendering I do for the comic strips I'm making which combines both in every panel. The title was mostly inspired from browsing through the book,
It's Not About Me: Rescue from the Life We Thought Would Make Us Happy
by one of my favorite authors,
Max Lucado.
In one chapter he recounts a story of an American soldier trapped in the island of Guam during the second world war. One day he spied one of the U.S. ships docked near where he was. He wanted to catch their attention and be rescued from the island but shouting and making any kind of noise was out of the question lest the Japanese soldiers find and kill them both. Then he remembered that he still had a couple of supplies with him, one of which was a small mirror. This he used to reflect the sun rays and signal a S.O.S. in morse code. This worked to his advantage and was promptly rescued. Then the author proceeds to ask, let's pause all logic for a moment and ask what if the mirror declined to work for a number of reasons? What if it refuses to reflect light because it thinks it has some flaws on its surface? What if it lacked a proper self-esteem for being in the dark for too long? etc. etc. The same thing goes with us who profess to be followers of Jesus, who are called to be mirrors to reflect His light in a dark world. That's where he quotes a statement the Apostle Paul wrote to the church in Corinth,
But we all, with unveiled face, beholding as in a mirror the glory of the Lord, are being transformed into the same image from glory to glory, just as by the Spirit of the Lord. (2 Corinthians 3:18, NKJV)
And that's when it hit me, this whole project wasn't going to be for my honor but rather His. Reflecting His light doesn't always have be done in words but also in actions, particularly through art. Did you know that the first time God was introduced in the Bible wasn't as a Fair Judge, a Warrior, Defender of the widow and orphans, or even as a Father? Rather He was first intoduced as an
artist
. The first line of the first chapter of the first book relates:
"In the beginning God created..."
It made perfect sense as an artist that I should point back everything to the ultimate
Artist of artists
. If there's anything I should boast about this whole thing is
what He's done and given to me
. That's why the self-caricature I did for the poster doesn't show me other than standing behind a large mirror, if the credits should go anywhere, it should go to Him and not me.
I do apologize for my being remiss in posting any contribution to the Thursday webring, to make up for it you can check out loads of
West Side
strips I posted online by clicking the banner above then haul over to the others in the links provided below.


Jonas Diego
Jerald Dorado
Reno Maniquis
Edgar Tadeo