Saturday, December 03, 2005
I had a blast hanging out with one of the funnest group of friends in the world. We spent almost the entire day swimming in Ciudad Christhia is San Mateo, Rizal after spending the previous night in fellow Denner,
Lei
's house. We started out last night with one of our usual Friday meetings at Gloria Jeans Coffee in Cubao before taking
colorum
to Lei's place by way of the Fairview route. Good thing our friend,
Ryan
joined us which made the meeting livelier. On the way we talked about hilarious past episodes of Saturday Night Live particularly where cast regular,
Darrell Hammond
which does a dead-on impression of Sean Connery (the ones he did in the "Jeopardy" episodes with Will Ferrell playing
Alex Trebek
then the conversations invariably shifted to the novelty flavors of a local toothpaste and what-if it offered garlic flavors or bagoong
(anchovy)
flavors.
After depositing our bags at Lei's house and watching bits of the hilarious
Bubble Gang
we went to Paskong Pasiklab
(which is very near U.P.)
and went the rounds before settling down to ride the "Octopus." I haven't ridden one ever since I was in Grade 4 or 5 since I remember being sick the last time I rode it. After being strapped the ride started with not much happening except for the twists and turns that threatened to hurl us straight to the ground if we didn't hold on. I was enjoying it after a while when I saw a couple of kids in the pod ahead of us enjoying themselves, raising their hands and shouting with excitement. I thought this wasn't too bad and I did the same. After a about three minutes into the ride I thought I've had enough and I wanted to go down. A couple of seconds pass and I began to feel nauseous. My friend, Sandy directed me to close my eyes so that its effects wouldn't be as bad. So I did and since the movement and jerking of the ride still didn't make any difference I rested my head on my hand with my elbow resting on the side of the pod. The ride seemed to go on for eternity. I think the operators took notice, stopped it
(which they should have done five minutes before, GRRRR!)
, and let us me and Sandy off first. I was dripping cold sweat and I wanted to hurl but my stomach wouldn't cooperate so you could imagine my miserable condition at the time. In an unintended comical situation some of the others went straight to the hotdog stand and began to eat. The others proceeded to ride the bump cars while I took a seat to recover with Sands in the sidelines. We stayed for a little while longer, trying the shoot-hoops for a stuff toy and the air rifle thing before going back to Lei's house. Unfortunately Ryan couldn't come with us and he went straight home.
We didn't immediately go to bed as they first ate pizza, then the chocolates I brought with me, and played cards till about 2:30 in the morning. We woke up around three and a half hours later and resumed our conversations. We then ate our breakfast and walked to the pool resort, Ciudad Christhia or
9 Waves Resort
, some blocks away
(stopping for supplies along the way)
. We got there some time before 9 am and we were the second group there. The waves refer to the artificial ones that they create in the biggest pool they have but since they were conserving electricity or something, their conditions for using the wave machine was that the pool should have at least 25 people in it. There were already eight of us and we were waiting for 17 more. A lot of folks arrived after an hour but were shy about it and initially preferred the other smaller pools
("sissy pools" as
Patrick
likes to call them since they only have a depth of about 4 feet)
. Eventually those folks began to tire of the slides and shallow water and transferred to our pool. We reached the requisite quota about 35 minutes later and the lifeguards manning the wave machine were still reluctant about turning it on. What happened instead the skies grew dark and it began to drizzle. Two thirds of the people in the pool began to scamper away because of this but some of them saw we weren't budging from our place and slowly came back. That's when the wave machine was opened. This isn't a new thing if you've already been to Splash Island down South or in any of the resorts offering artificial beach ambience but what makes it really fun is the company that surrounds you at the time. And boy did I have the best time:
We were here first! Boooyaa!!!
Making small waves.
Woooooooh...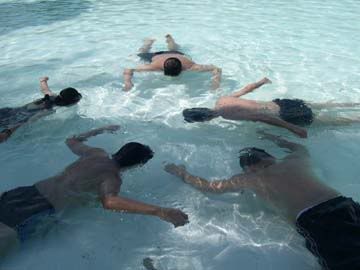 Scene from CSI
Pondering the deeper meaning of life.
Titanic this ain't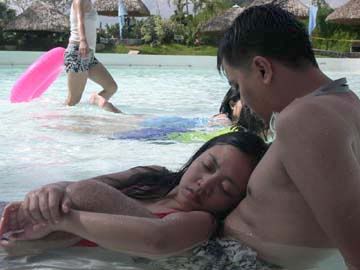 Sweet dreams are made of these
A Den meeting without the coffee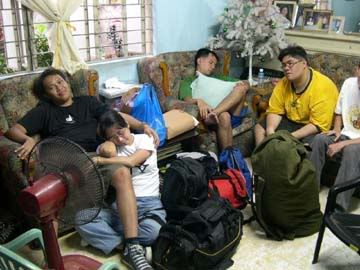 One last rest before heading for home.
Lunch time came and we had a feast prepared by the wonderful, wonderful folks of Lei's home. We took another rest after eating, some of us played another round of cards, some stayed under the shade of our cottage, while the rest lounged in the water for some alone time. The sun was out at the time there weren't that much people in the pool anyway. The speakers up front continued to play slow, sentimental songs in time with the crashing waves which makes you think of one of those stereotypical scenes you'd see in one of those videoke songs. Come 3:00 pm we were ready to crash but since we still have two hours to go, half of us stayed in the pool and soaked in more chlorinated water. About an hour later we were all dressed and ready to go but were still trying to regain the strength for the long walk. We stopped by Lei's house again for some afternoon snacks while watching the Malaysians and Vietnamese play soccer and volleyball in the SEA Games. We all went home an hour and a half later, quiet but extremely happy and fulfilled that yet another memorable Christmas outing has come to pass.