Monday, December 26, 2005
I made it to to Gloria Jeans Coffee in Cubao an hour later than the time we agreed on. The Beerkadets
(fans of the strip "Beerkada")
were having a year end gathering at that place today being a holiday and all, besides there may be some questions or discussions waiting to happen about the stuff being displayed. It was still a pretty quiet affair which suits me just fine too since I'm not into big crowds. Some friends joined too like
Patrick, Syeri
,
Jon
,
Lyndon
,
Lei
, and
Lico
among others.
Jinky
also brought some goodies for which I'm truly and utterly grateful
(I got a cool
Mutts 2006 Calendar
! Yey!!!).
Here are some pictures from tonight's activity: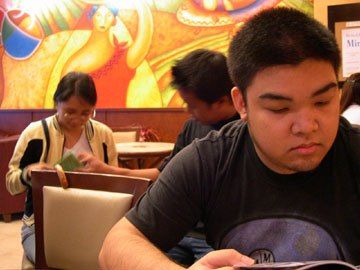 These are but some of my artist friends
The gallery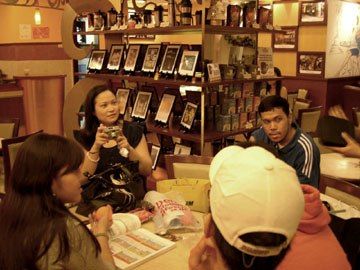 It was nice to see them again after a long time.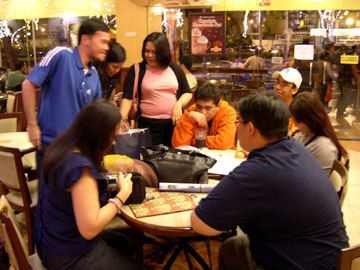 Winding down
We had dinner at Gateway Mall afterwards before going back to Gloria Jeans again to wait for the others who are yet to arrive. We enjoyed our time laughing, swapping stories, and generally enjoying each other's company in the afterglow of the holiday season. I've still got time for the gallery if you want to go there and view it, perhaps buy a framed art or two.