Sunday, December 25, 2005
I was planning to watch
King Kong
yesterday as soon as the party was over but plans have a way of screwing themselves so I now have to wait around three weeks before the local movie lineup goes back to normal
(like all Metro Manila Filmfest entries are something to crow about anyway)
. I'm hoping against hope they'll bring back the big ape next year after these movies are done, then there's also the "Narnia Chronicles" and "Family Stone" to look forward to. Today's a lot better than the previous ones because we went to spend Christmas in my aunt's house in Malolos, Bulacan. She's one of my favorite relatives and going to their house in Malolos is always a treat for me because it's laid back, quiet, restful, and the fact that I get to explore their backyard everytime adds a lot to my looking forward to going there. Another reason is that the relatives on my mom's side of the family are mostly artists or at least lean towards the arts so we understand each other a whole lot.
The only thing that bothered me today was when I remembered I left to take the battery to my camera
(it was even freshly charged)
so I had to do with the ones my younger brother and sister brought with them. We arrived a little before noon to a home cooked meal that's so scrumptuous we didn't waste any time sitting down around the table and partaking of the table spread. Afterwards I went out with camera on hand to hunt for subjects I could immortalize and post in
my dA page
. I also came across a friendly cow that started rubbing its head on me when I petted it like a dog.
My uncle checks out the pages of
Siglo: Passion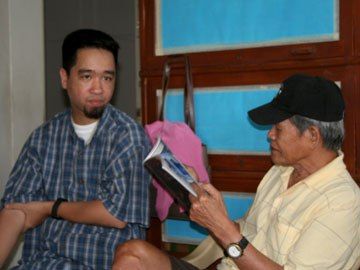 Another uncle
(the sculptor cousin of my mom)
also browsing "Siglo"
Another uncle we never met did this, he died recently.
A colored charcoal sketch of an old movie star done on felt.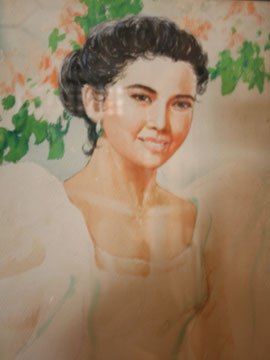 Framed artwork done in watercolor by the same uncle.
Family picture with some of our relatives from my mom's side.
There were also a couple of surprises like an uncle of ours did a couple of works that we never knew existed. One of these were a bunch of back scratchers carved from the wood of a guava tree
(they're one of the hardest to carve, cut or even scratch if you're not familiar with it)
. I'll take a picture of these back scratchers around next week and post them here. There were also paintings hanging at his son's house that we documented for posterity. By the way that uncle of ours is related to us down the line of my mom's family, I think he's already a second or third degree relative. My other uncle
(a cousin of my mom, the one with the hat in the picture)
is also an accomplished sculptor who uses terra cotta as a medium. He did some huge monuments in historical parks scattered around the metro. Being surrounded by artists didn't deter me from showing them my contribution to
Siglo: Passion
. Especially since I used my lola's house there in Malolos as background in the pages that I did. We went home mid afternoon, stopping by one of the gas stations-turned-rest-stop/commercial-areas dotting the North Expressway for some snacks.