Saturday, December 31, 2005
Me and my brother went to
Tiendesitas
with
Trevor
and
JP
in the afternoon after paying a short but memorable visit to
C.H.I.L.D. Haus
in the morning
(I'll tell you all about it one day)
. They only have a few days left so we thought it would be good to spend time before they fly back home. We browsed around looking for packed food samples they could bring back home like coconut jam,
pastillas de leche
,
chichacorn
, etc. Some of the stalls offered free sampling of the food they sold that helped the decision making go a bit faster, we had to haggle with those that didn't. Then we're off to eat lunch in the foodcourt located in the middle of the place
(for the benefit of those who aren't familiar with the term, a "foodcourt" is a huge dining enclosure usually found inside a sizable commercial area, they term was first used by SM Malls)
. We each made an order from two different food stalls that we also shared with each other. Trevor made the compliment that we make the best pork barbecues he's ever tasted and he also liked the
Nilagang Baka
that we got.
Near the end of the meal we got to talking about chilies and we told him about the
siling labuyo
being one of the hottest in existence. He didn't know what it looked like but all the same he poo-pooed the talk saying it couldn't be as hot as the one he ate before
(I forgot the name)
. Incidentally there was a bunch of them in the condiments section beside our table so we got the container, he picked the green one over the red and made a dare that he whill eat the whole thing if JP would treat him to a mango shake later. JP refused to give in to this inanity but my brother thought it would be fun to see Trevor eat it and offered to buy the shake if he did. I seconded it and readied my camera. He asked if it's alright if he just bit the end, which is OK as I told him that the seeds contained the oil that made it spicy. He was relaxed as he enjoyed the stuff. It wasn't too hot. No big deal. He even dipped it into the fish sauce I poured in a small plastic cup. Then we talked about the concept of
Tiendesitas
which he also liked, we filled him in about the other sections where they could buy native products and the pet stores where you could buy exotic pets like scorpions and tarantulas. He finished the chili a few minutes later but the spiciness didn't kick in till a few seconds later. He was sweating and tears were running out of his eyes on the way to the fruit shake stall, that's where he finally conceded that indeed it was the hottest he's ever had.
They serve the biggest and best barbecues in this place
Mouth-watering local dishes in this one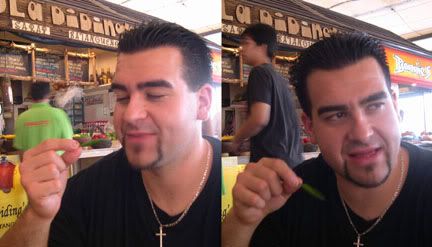 Not only did he munch it, he savored it.
Fresh bibingka on pink coals. Lovely.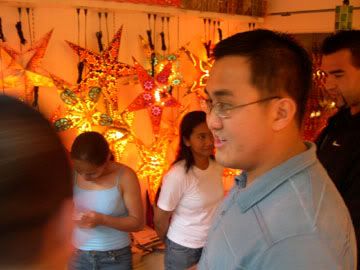 Haggling for capiz lamps in this store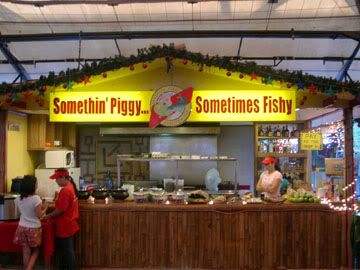 Ummm...
right.
We continued our rounds after that stopping by one of the stores selling colorful these
capiz
table lamps
. They haggled for a while but eventually settled for the last price the saleslady gave. I also got to talk to a pet store owner that was selling a
Siberian Husky
puppy among others
(she's selling females for Php 30k while males go for Php 25k)
. While I still prefer German Shepherds, the ready availability of Huskies sort of changed my mind about getting it first. After a couple more rounds Trevor asked me to show him the tarantulas they were selling in that place before we got too far. Taratula afficionados might be interested that sside from the
cobalt blue
variety, they're also selling what I think to be a
King Baboon
or one of those baboon types
(we were informed that they're poisonous)
. After going a few more rounds we stopped by one of the
Zagu
stalls before heading for home, we could have stayed longer but they have a church service to attend in Galleria. Me and my brother also attempted to attend a church service but since he thought that a church service was also going to be held at
The Fort
turned out to be a false lead we settled with bringing a couple of Christmas gifts to his friends near our place. We'll be having an early dinner in Makati tonight in lieu of the traditional Media Noche.
Happy New Year everyone!