Monday, December 19, 2005
Me, my sister, and mom went last night to this place called
Tiendesitas
(which I think came from the the Mexican word "tienda" which means "general merchandise store" which in turn gave birth to the Tagalog word "tinda" which came to refer to the merchandise than the place, so I'm guessing "tiendesitas" mean "a group of small stores"?)
. This is located along Libis near the Valle Verde group of subdivions along Julia Vargas Avenue. We went there late at night right after watching a movie, and the one thing I observed about it is if ever the Greenhills area has any serious competition as king of bazaars, then this would be it. The prices are reasonable or at least the same as those in Greenhills but the big difference is that the whole place is divided into categories, in one section you have the clothes and accessories, in the other you have local crafts, then pet stores
(one store even sells Cobalt Blue Tarantulas and Scorpions contained in neat plastic packages)
, a huge dining and entertainment area, another area is packed with care packages, etc. making shopping a lot easier than it already is:
Welcome sign
Holiday crowds doing some not-so last minute Christmas shopping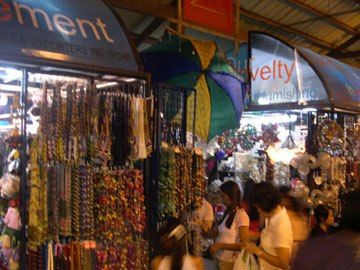 Local merchandise that makes the Filipinos proud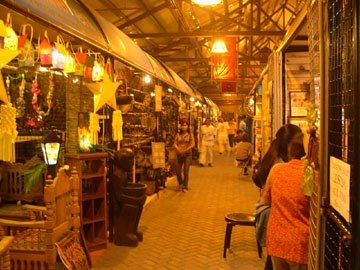 Local products section
It's already late and people are still arriving
This was the first time I've been to this place
(there's that other place called,
168 Shopping Mall
that die hard bargain hunters swear by, that is if you can stand the lunacy of diving into last minute shopping)
and I'm fascinated by the almost infinite variety and neat categorization of wares. We spent around two hours in the whole place and it feels like I haven't explored half the place. My sister got neat-o bead necklaces for her friends, ref magnets with small weaved baskets and sea shells which makes for a great souvenir for "balikbayans" and visiting foreigners, while my mom got sandals
(she calls them "step ins" which draws some giggles from my sister which thinks is a dated term)
and Christmas wrappers, while I held off any purchases until I saw everything. I was looking for a German Shepherd but I could easily settle for one of the cockatoos there.