Wednesday, December 07, 2005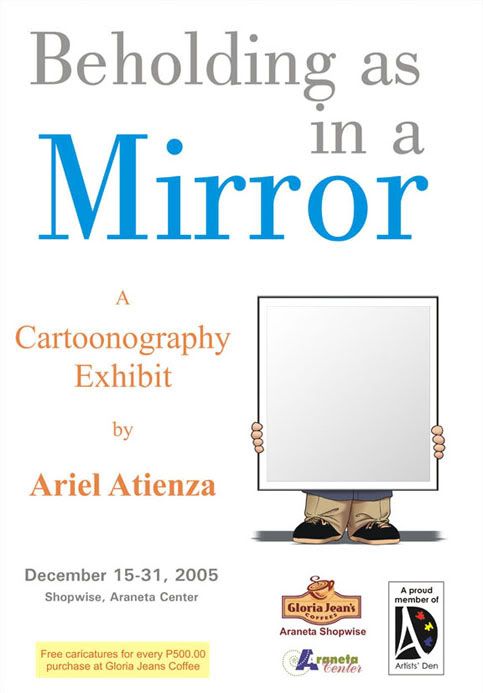 This poster is the result of countless hours of perusing through various reference books and websites showing graphic posters and book covers in a library, various bookstores all over the metro, and websites, studying various CD covers of alternative artists in music stores and fansites. Hanging out in cafés, staring into space and sketching layout studies one after another. The lone figure holding a large mirror came about last night while I was eating spaghetti and meatballs in the mall.
I'll be selling most of the works you see in my
deviantART account
and some of those that aren't yet there:
• 11" x 17" comic strip prints are sold for P200.00
• 8.5" x 11" comic strip prints are sold for P125.00
• 8" x 10" photograph prints (with glossy black frame and glass) are sold for P250.00
I'll also be coming out with greeting cards featuring some of the photographs I took and, coming soon, comic strip characters too. Please do introduce yourself when you do drop by to say "hi," especially if you see my face go blank and eyes glazed over as I'm having a bit of trouble remember people I've only met once or twice. Don't forget to order some coffee and patries.
* Be there or be compared to a four equal-sided geometrically shaped... thing!