Friday, December 30, 2005
Today was one of the funnest and most memorable this year. It was a complete contrast to the previous weeks as if God was telling me that everything's OK but I should know better next time that I've shouldn't be such a selfish boob who's seeing things through tunnel vision instead of His. Nothing smacks my head to realization harder than this. We had another party gathering on my dad's side of the family and though I originally planned to stay for a couple of hours at my cousin's house in Pasig before heading out to Cubao for our Den meeting later that night was abruptly changed. But time flew so fast and what I previously thought to be just another typical family gathering turned fun when everyone started swapping jokes and playing games on each other. Me and
Trevor
got to talking about taking pictures and that's when I found out that he's planning to explore the possibilities of the medium as an artform not just taking snapshots of everything here. When we've had enough of the food they brought out
Cranium
! We divided ourselves into two groups and had the fun of our lives answering trivia questions, drawing answers, sculpting them in clay, playing charades, performing the answers and laughing so much that I almost forgot that I have someplace else to go
(pssst! guys, forget the DVDs, let's play this one on my birthday!).
Three hours later most of them visitors had to go home. But since it was still early to just go home and do the single guys in the group talked about going out to hang around and chill in either The Fort or Eastwood City.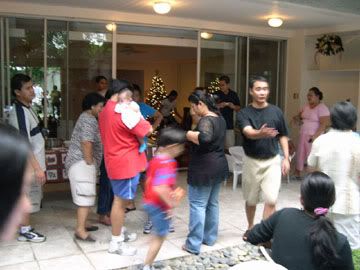 Getting the party started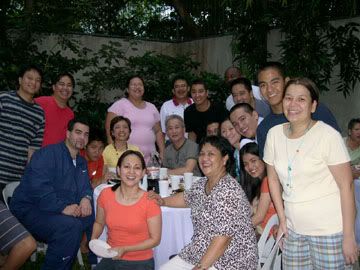 Hail! Hail! The gang's all here!
Trevor with one of my nephews.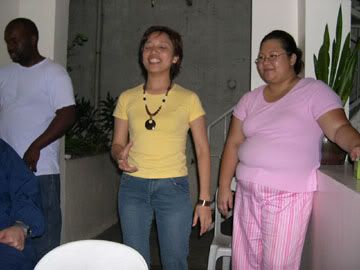 Playing charades as part of
Cranium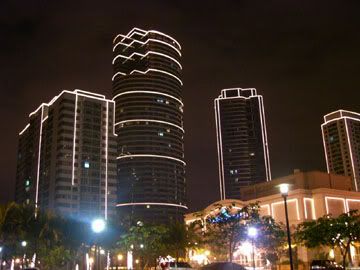 Holiday lights at Rockwell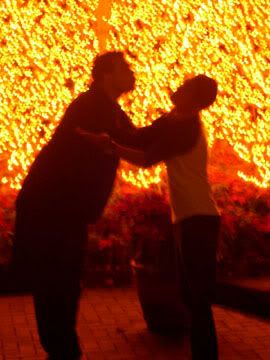 Trevor and my nephew, John fooling around
Backsync Zone
Going home now
Me, my brother and his girlfriend went home first to rest a bit and get the car. It was about that time that
Lico
called me on the phone asking where we are. I apologized and told him that I wouldn't be able to join them and the others are probably still coming over. After that I saw the text message
Lyndon
sent informing me that they're in
Dencio's
with
Jinky
. I called her up and apologized for the delay in the artwork she's asking from me and also informed them about the situation. After a while we went out to pick my nephews and Trevor from my cousin's house. We then proceeded towards Rockwell discussing about a lot of things. Particularly about book titles that are worth reading, their job and life in San Diego, etc. We also took them out towards the huge Christmas tree near the mall where we took more pictures and chatted for a while before heading home some minutes ago. We'll be seeing each other and hanging around again tomorrow.