Wednesday, December 28, 2005
We had a reunion with my dad's side of the family this time along with the cousins and nephews and nieces who came over from the U.S. We had them over the first time last Saturday with a small welcome party here at our house and it was quite an experience for half of them who came over for the first time to the Philippines
(our neighbors were prepping their food on the street for a "fiesta" style Christmas Eve party. They were, at the time, roasting two pigs and cleaning some of the innards in a bucket)
. The dinner earlier at Market Market included almost all the entire clan and by mom's account that's around 50 people right there.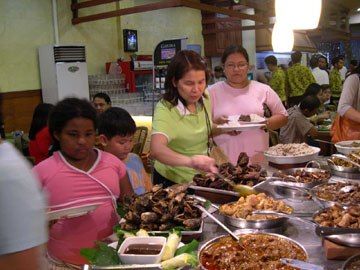 (Left-right)
My grandniece, Hannah, nephew Marco, cousin-in-law, Ate Gigi, and niece, Pia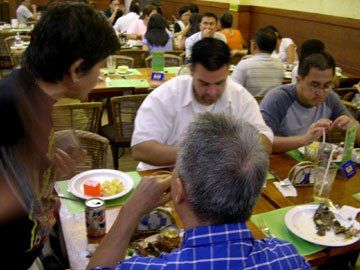 Trevor and JP with my 'rents.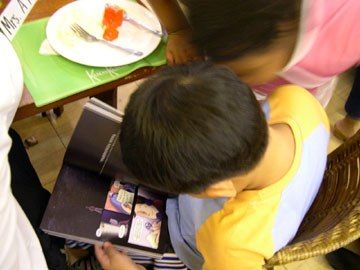 One of my nephews browsing through the pages of Siglo
Grandniece and nephew, Hannah and Isaiah.
Thid of the clan from my dad's side
I showed them the pages I did for
Siglo: Passion
, but aside from the kids only one of them showed particular interest in what I did. That's my nephew's roommate,
Trevor
(an American on a first time visit)
whom I also got to know well after helping him pick out the edible food
(e.g. none-exotic food)
in the buffet table. He got to know and accepted Christ at the age of twenty after mulling the direction his life was going to. I also got to know my grandniece and grandnephew well after engaging the both of them in a lot of talk. Although they can understand Filipino, it's my fault that I keep forgetting it and kept talking to them in english. We finished around past 9 pm and went our separate ways, I don't know if they someplace else but my sister thought that it was too early to go home so me, my mom and dad slowed down to have a nightcap in Rockwell till we were tired enough to go home.