Saturday, January 28, 2006
I failed to mention that I started feeling under the weather yesterday morning. I'm worse off today than I was before but that didn't stop me from going with my two younger siblings, my brother's girlfriend, and our two Russian visitors,
Katya
and
Natasha
to experience the Chinese New Year in Binondo. It was Katya's idea to begin with anyway. The part where I'm worse off than yesterday is that I got my left eye all puffy and numb. Well, not entirely numb but a little bit. An on-and-off allergic reaction to the
Paracetamol
I took the night before. It would have been a lot worse if I took it this morning then my face would be all itchy and mildly puffy compared in contrast to both of my eyes that would be so puffy I'd have a hard time opening them. That would be hell. Anyway, here are the pictures from today's event:
A traditional Filipino wedding at Binondo Church
Wonder what the ribbons are for, and why the tubers?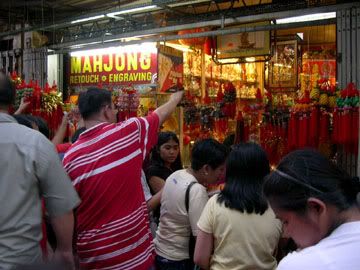 This shop selling charms was having a field day with the frenzied shoppers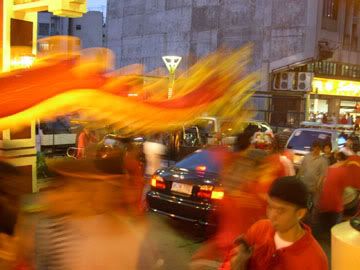 That's the head of the kilometer long dragon
The well-known Estero
(Estaurant?)
where we ate our dinner
One of the welcome arches to China town in Ongpin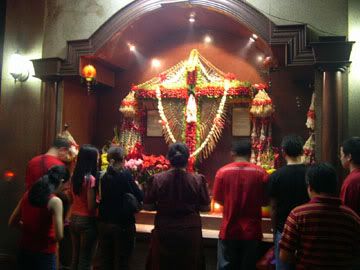 Bizzare mix of Buddhist worship with Roman Catholicism
After dinner we went to the airport to see Katya off, but we since got there an hour early to her check-in we proceeded to Starbucks in SM Sucat
(I didn't know there was a mall here)
to kill time before going back to say our goodbyes. Then it was on to U.P. to help Natasha check in another room at the UP Hotel before we all went home exhausted and ready to crash on our beds.