Tuesday, January 03, 2006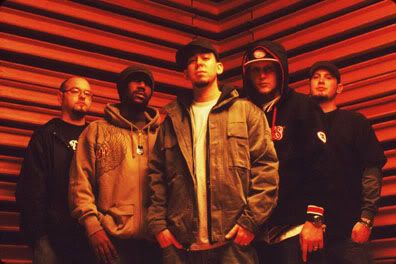 I just found out that
Linkin Park
's über cool emcee,
Mike Shinoda
came out with a chillin' new band, a side project called,
Fort Minor
(a collaboration with friends in between LP albums)
. I found out about it in an ad that came out in a magazine earlier tonight, and I'm down with it the first time I heard it. The album,
Rising Tied
is produced and mixed by Shinoda, he also wrote every track, played 99% of the instruments
(except the strings)
and "slaved over every detail." You can listen to the three lead singles:
Believe Me
,
Petrified
, and
Remember the Name
here in their
official site
("enter flash" instead of "html")
. I also got to see the videos of their lead singles online and I must say it's really awesome! I'm getting it later.
*
Related links:
Official Membership site
,
Unofficial Fan Site
(filled with FM goodies you wouldn't believe)
,
Fort Minor MySpace
(add them to your account)
, discuss their album in the
forums
.