Sunday, January 01, 2006
We went back to our cousin's house in Pasig well before midnight in time for the new year celebration. We opted to hang out at their place particularly because our neighbors thought it a blast to park a videoke machine at the side of the street in front of our house, coveniently forgetting that there were other people living beside them that didn't exactly savor hearing them screech the words to Madonna's "Like A Virgin" or anything they pleased. Besides it was a lot more fun hanging around with our nephews and nieces from the U.S. whom we haven't spent New Year's Day before.
We arrived around 10 pm, by then
Sidney
and
Trevor
were on the streets busy lighting firecrackers while the kids watched. I stayed outside for a while watching them while the others went inside and exchanged stories with our cousins, aunt and uncle. Trevor bought 4 huge firecrackers and they were planning to light it at midnight at the top of the condominium near the house. We ate an edited version of the Media Noche while waiting for midnight
("edited" as in "merienda")
while the random but consistent bang of firecrackers continued outside. Around 11:30 me, my cousin
Noel
, his son,
Marco
, and Trevor walked to the condominium to get a headstart on the events
(we heard you can see most of the Metro at the top)
. What we saw was quite a treat as communities and houses all around abound with firework displays that rival those we've seen in previous events. Here are some of those I've managed to catch courtesy of my sister's camera
(my cam conked out earlier and I left the battery recharger back home)
:
Oooooo...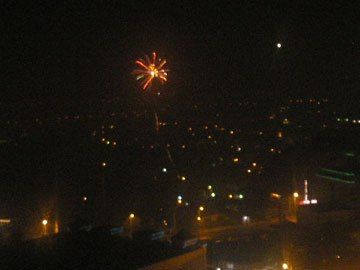 Aaaaah....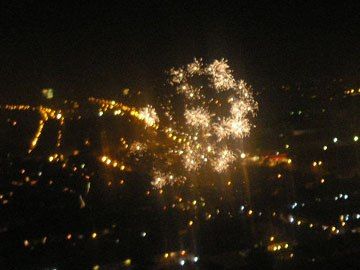 Woot! Wooooot!
Bravo!
Awriiiight!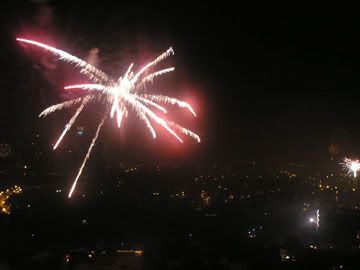 Yeah!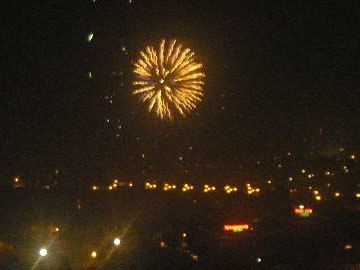 More! More!!!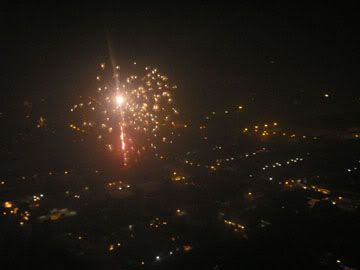 Woooohooooo!!!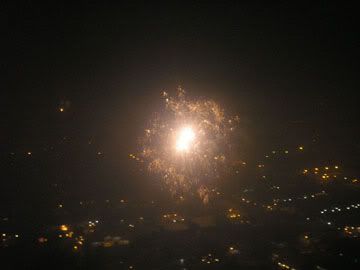 Wooo! Wooo! Wooo! Wooo! Wooo! Wooo!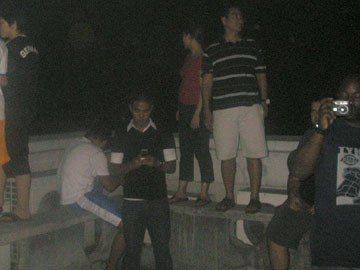 Just can't get enough
Trevor lit his rockets one by one when midnight came, we were cheering "Trevor! Trevor! Trevor!" while one of my cousins would underhandedly inject the word "talon" in between. Unfortunately the rockets were a dud and weren't as spectacular as we had hoped it would be but we still had a good laugh out of it anyway. We took more pictures and stayed on the roof for a good hour or so before coming back down when it was all clear
(relatively speaking of course)
that there weren't going to be any more fireworks displays around. We stayed for a good ten minutes more before going home to our own house, and to the sounds of screechy voices singing Bon Jovi's "Bed of Roses" in the streets. God forbid that something happens to that infernal machine, after all it's just a rental and we wouldn't want them paying for it out of their pockets now, would we?
Hmmm... Tempting.