Sunday, February 26, 2006
The last day of the
Arts and Music Festival
was both exhilirating and exhausting. With Lyndon out enjoying himself with his lurv watching "
...Ze Muzikal
" in CCP I was left with the task of drawing portrait caricatures of interested parties passing by our booth. While I wasn't exactly the sole artist left with the task
(Lico was excellently doing some himself in between his card readings)
I was bearing most of the load. That's the exhausting part, the exhilirating part is seeing these folks walk away with twinkling eyes and big smiles on their faces on seeing the result.
When doing their portarits I don't ask them to pose or anything, based on my initial impression of them I'll begin pencilling a pose before I look up
(if they're standing up)
and scrutinize their faces for any feature that I could highlight in the drawing. I also accomodated a few requests like the one holding a samurai sword below. I added the Japanese costume as a bonus. I myself have a few regret with some of the drawings that I did, preferring to start all over again if I could but I had to hand it over to them before the initial novelty wears away and gives in boredom.
Elsewhere it was more of the same for the performances on stage which was ok except for the rock bands which puts a lot of strain on the eardrums. We also got to meet and talk to a lot of potential clients ranging from creative groups, agencies, art schools, etc. A couple of guest celebrities also dropped by like former P.O.T. lead vocalist,
Karl Roy
and actress turned
New Age singer
,
Chin Chin Gutierrez
dropped by inquiring about the artworks featured on the walls of the booth
(Karl particularly likes Syeri Baet's artwork which he said reminds him of Pugad Baboy. Yiheee!)
. We also got to make a lot of new friends from neighboring booths
(like the group of painters from the Far Eastern University)
. Here are some pictures from today's highlight: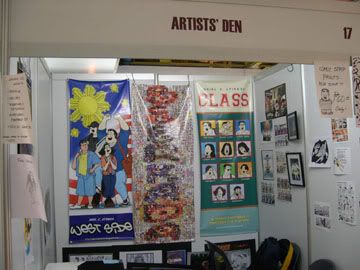 Das booth!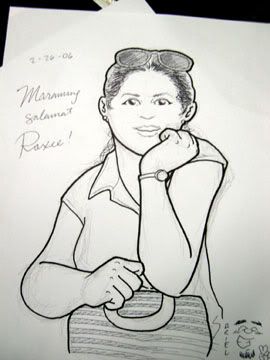 This is one of my favorites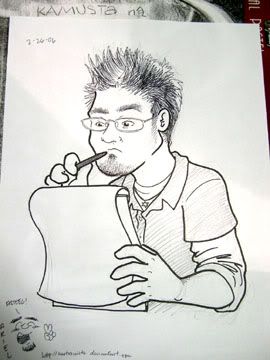 Carlos Ongchangco
, youngest member of the Saturday Group
I wish I could have done this one a lot better.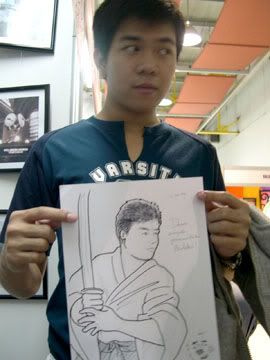 Click the image for a closer view of the drawing.
This is another favorite of mine.
This last drawing was the last that I did for the evening. Turns out to be one of my favorites too. She gave me a handmade bracelet that she's selling in the booth she shares with her friends. Rock bands were ruling the stage by early evening and we stayed as late as thirty minutes before closing before we have had enough and packed up. Lico was left in the booth to wait for a friend. I proceeded to my new haunt to draw next week's strip. I finished it earlier than expected but I'll just finish editing the whole thing tomorrow. Time for me to hit the sack after this one.