Friday, February 03, 2006
Things have been really slow these past few days I haven't got anything much to say nor have I got any ponderance worth posting. Well maybe last Wednesday's highlight which had us enjoying the wonderful services of the hoity-toity videoke bar in Greenbelt 3 called
Red Box
. My mom's
balikbayan
high school classmates and schoolmates are in town for a few days to attend their reunion and in an effort to show that indeed there's life outside Manila Hotel she invited a bunch of them to sing the first class way. Me and my sister tagged along because we had nothing better to do but more importantly because there were sure to be some freebies.
They gave us a small room round the corner and since the others were late in coming I helped myself to picking some songs I'm sure the oldies would like. We also helped ourselves to the buffet but soon boredom enveloped them and they soon forced me to pick songs by Tom Jones and his ilk so they could begin their singing. That did it. The only thing that kept my interest in that room was the autographed poster of one of my fave groups hanging behind the huge TV set: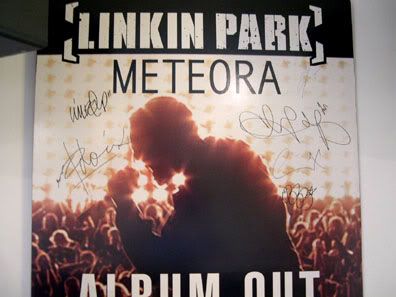 I also got a membership card from the place and I got to browse through Powerbooks
(snatching up a Spider-man TPB in the process)
. Those were cool but not as much as the autographed poster. Between the Tom Jones songs and other songs that I heard for the first time, that poster alone balanced out the whole experience as okay.