Saturday, February 25, 2006
Today's a lot better than yesterday in terms of visitor attendance. I come in a lot earlier than before if only to experience what it's like to go in the mall ahead of the crowd
(ph34r the power of the c0nvention ID)
but then I realize I forgot to bring my camera so I had no souvenir shot of a deserted mall. Inside the covention hall some of our neighbors were busy adding other fixer-uppers inside their booths in expection of the weekend crowd. I arranged the tables and the merchandise we had that were left inside the booth, I had no idea who was coming after me and what time they'll be arriving so I looked around and hung a bit more at
Wawi Navaroza
's booth
(lead vocalist of
The Late Isabel
and a top notch photographer)
. Birthday boy,
Lico
came in after a while and added more signages of his own before he went out in search of a good photo printer,
Syeri
came in about lunch after being let off work a lot early than usual. There were powerful performances from other artists like
Pinikpikan
and
Romancing Venus
made me watch in front of the stage rather than listen from our place. I went out for a while to get my files printed after seeing the results of Lico's quest
(which is so good and cheap I'm now offering A4 size prints of my comic strips)
. By the time I got back
Jon
,
Lyndon
and
Lei
were there with
Patrick
arriving half an hour later. The other birthday boy,
Sandy
also passed by and hung around with us before we all went out together for pizza. Anyway most of the folks out there were watching the show on stage and besides this was the only break Lyndon got from drawing all those caricatures
(we offered them for free)
.
Pinikpinkan and friends on stage
An on-the-spot pastel painting by Saturday Group artist, Convocar.
Poetry reading by one of the members of
Romancing Venus
.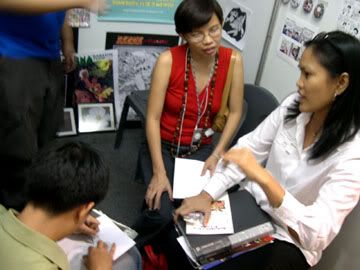 Lyndon doing caricatures of these two lovely ladies.
Hypnotic dance from Argon Laser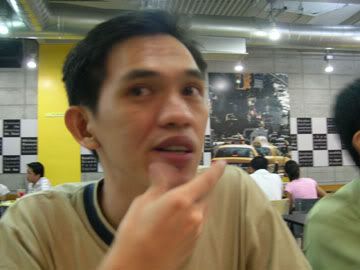 The Sandman
Me hungry for pizza
Reviewing some shots in the camera
What do you mean you forgot the anchovies?
First portrait drawing I did for the festival
Come night time it was only me and Lico who were left in the booth and right before we left a couple more folks passed by the booth who wanted their caricatures done. I rose up to the task and finished it in a matter of minutes. I refused to do some more and asked them to just come back tomorrow. I'll be the one doing the caricatures tomorrow because Lyndon and Lei will be catching the afternoon show of the Zsa Zsa Zaturnah musical in CCP. Must remember to bring a bunch of clean sheets of paper tomorrow for this.