Sunday, March 12, 2006
The Komikero meeting today in San Pablo, Laguna has been announced more than a month ago and I made sure that I finished the comic strip for next week last night so I can attend today. I wasn't fully confident with my navigational skills as far as Laguna goes
(it's been almost two years this month since the first and last time I went there)
so I asked
Jonas
if I could tag along with him on the way there. We arrived around lunch time on the shores of Sampaloc Lake where the meeting place was. The whole place was a lot better than I remembered it.
Ed
was already there having arrived some five minutes earlier than we did. We didn't see
Gerry
and the other Komikero's in the vicinity so a couple of calls were made that pointed us to two directions, the second one was right on the money and we found Gerry sketching some blocks away from where we were
(or at least the equivalent of street blocks)
. We then had lunch at the nearby
Tahanan Ni Aling Meding
before getting down to some serious drawing.
But since I haven't been that good at drawing landscapes
(the leaves on the trees are too much of a bother to draw in detail)
I took the time to take some shots I could sift through to post in
my DA page
: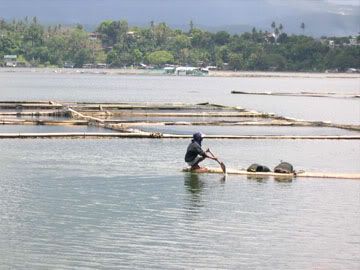 It can't get any more rustic than this.
Needs a smidgen more burnt umber.
Jerald doing a balancing act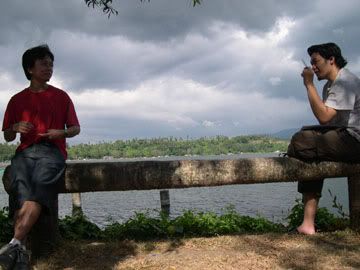 Can you hold that pose for an hour or so?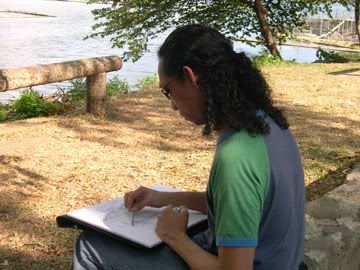 Ed with his masterpiece.
Gerry with his colored marker opus.
See that white blur in the middle? That's rain. Which in Spain falls mainly in the plains.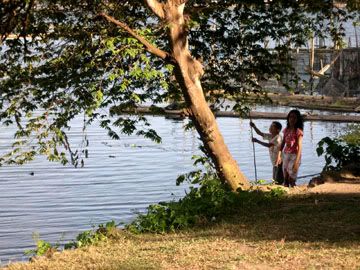 Good afternoons are made of recreations such as these.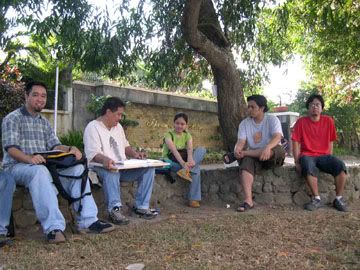 Komikero's in attendance
(Ed got cut out, sorry dude)
.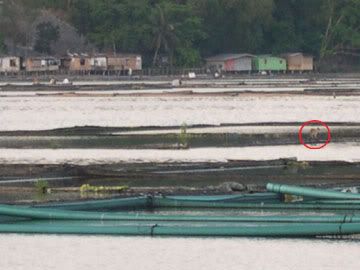 Lonely cat guarding the nets
We were joined sometime later by other Komikero's:
Mylene Panagsagan
and
Jerald Dorado
(had Reno Maniquis joined us, the "Thursday Comic Web Ring" gang would have been complete)
. Various groups of locals who were passing by stopped to watch us sketching and give us unsolicited opinions of our drawings. I dropped the sketching bit after a while and concentrated on getting some good shots with the camera. I missed a couple of opportunities because some of the subjects were conscious of having their picture taken and looked my way a lot. We decided to pack up and have an early dinner come 5:30 pm at the much heard of grillery,
Sikat-Tuna
. Seems like everyone swears by the Tuna Belly served in that place those of us who haven't been there decided to give it a try. Soon enough we were swearing by the belly too. P80.00 for a meal? That's a real steal of a deal! After that some of us took the tricycle for the bus station and start heading for home. There's another gathering being planned by the end of this month, a swimming party of sorts and though I would definitely like to go back there again I'm not sure I'd be able to. Probably next month or maybe May.
*
UPDATE:
You can see more pictures here at
Gerry
's and
Ed
's blog.