Friday, April 14, 2006
I lost my cellphone. I lost my cellphone to some stupid burglar. I lost it to some stupid burglar while we were sleeping in the freakin' room in the freakin' flea-bag hotel! The roomboys and bellboys feigned innocence saying they don't anything about it
(they claimed to have done a security check every thirty minutes around the vicinity)
. The owner alternately dropped hints of the incident being out of his hands and we were making things up to collect some money from them. Like if I did have some intention of collecting money I would have said that I lost my digital camera too and we would be making a freakin' scene inside his freakin' office,
capiche?
At first I thought it was my brother's phone that was the one that's only missing from our room
(he placed it near the window before going to sleep while I had mine inside the belt container on top of my other stuff near the door on the opposite side of the room)
. But when I was getting dressed I looked for my phone and that's when I first noticed it missing. We both tried calling our phones after a few minutes but the busy tone at the other side of the line indicated it being switched off
(I had three bars left in the battery while my brother had full charge)
. Since the hotel owner indicated that he's willing to reimburse our phones from his insurance policy on the condition that we submit an affidavit of loss along with a police report we did as he asked and filed for one in the nearest outpost. What the police did next after hearing our report boggled and disturbed us at the same time.
Instead of typing a report as apathetic Manila policemen are wont to do one of the ranking officers went back with us back to the hotel along with three deputies to do some major sleuthing in the premises. They concentrated mostly on the windows of our room seen below. They asked more questions from the room boys and brushed some black powder
CSI
-style on the glass windows. What they found were some pretty interesting evidence:
Whaddaya mean you didn't see anything?
Presenting "Exhibit A"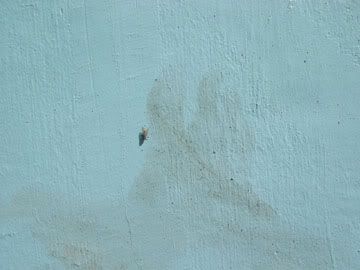 and "Exhibit B"
After the police report was handed to us we gave notice to the hotel that we be transferred to another room preferably on the upper floors. We went on to have breakfast after that. The sting of the loss of all those numbers and saved messages still gnawed inside me but I decided to move on and focus on the present. We had breakfast in one of the small restos dotting the two corner ends of Burnham Park. Breakfast was nice, the staff was courteous and cheerful. Just was what we needed after all that has happened. We also visited the Baguio Tourism Office, got some hotel brochures and had a small chat with the two custodians about the place and their jobs
(purely voluntary)
. Then we were off to
Mines View Park
for some souvenir shopping and strawberry jams from the famous Good Shepherd Convent. The only problem we encountered was the awful traffic jam on the way there. Instead of the usual 10 minute travel towards the park we spent around 45 minutes trying to get there. But that wasn't the end of it, all these traffic jam leading to one place also means we'd be hard put to find a parking space. But fortunately enough we got one halfway through the first round of search.
The image of Mines View Park that I have is that of a pristine crowd-free and vendor-free park where you could walk around with any hindrance or anything to spoil the view and experience. Right now it was the opposite of what I've said. You'd have to fight your way on the stairs around the huge boulder behind which is the majestic view of the mountains that make Baguio such a unique place. Well, there's not much to see anymore
(see picture below)
. So I was right in saying that the only attraction this park has is in the dirt cheap prices of souvenirs and the plethora of choices available to all shoppers. I think this is also the only place in Baguio where you'll find huge pork barbecues and grilled corn on the cob with butter. This is also where I finally let go of my tightly held budget and splurged on ethnic pouches I could use as a container for my camera, everlasting flower lei, a hand-carved small wood chair cellphone stand
(weird, I know, but it's one of the nicest ones I got and it's exclusive to this one stall on the far end of the park)
. It was also my sister's first time to go to the one and only source of the best strawberry jams in Baguio and it was closed on a Good Friday. Too bad I was also looking forward to buying some strawberry syrup too. But not one to turn away their customers, some convent staffers were selling limited amounts of goods at the gate itself.
Not much to see here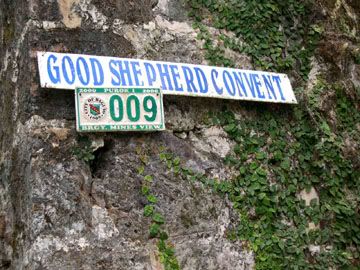 The one and only source of the best Baguio strawberry and ube preserves
After that we went back to the city proper stopping by
Teachers' Village
to inquire about the possibility of scheduling a retreat for my parents'
Couples For Christ
group. We settled on having lunch at
Kitaro
in SM Mall, since they have these great budget meals that are enough to fill the stomach without emptying the pockets. I was surprised mall was playing contemporary Christian music in the background. I made a remark about this to my brother and his girlfriend saying that we don't get to hear this often if at all back in Manila
(I momentarily forgot that today was Good Friday)
.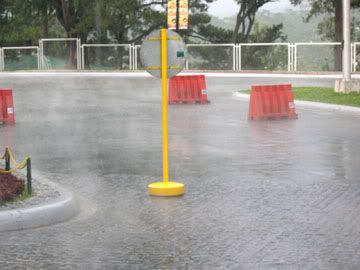 Mmmm...
Steamy
After lunch we went around the mall some more before agreeing to go back to the hotel for some short rest and going back out to have dinner. But we discovered some minor inconvenience upon going back to the car, we received a citation for blocking traffic
(we left the car on the downslope ramp out of the mall along with the others)
. We're not sure if the others got themselves a citation too but it was the least of our worries as we had to get back our license plate. After travelling from one police outpost to another we were finally directed to the main station where we finally recovered the plate. We went back to the hotel and got a short rest and went out back after a few hours.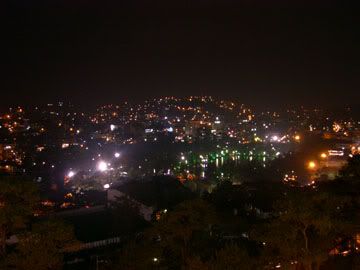 Baguio City at night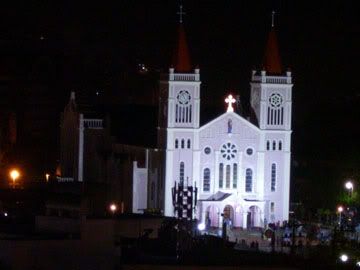 Lit Cathedral
We checked out the night market dotting the right sidewalk of
Session Road
after dinner
(the trick to getting the best in these merchandise/souvenirs is to be there around 7:30 pm when the vendors are still setting up their mats)
. Then it was coffee time at the mall and since this is is our last day in Baguio we aim to soak in as much of the sights as possible. So to sort of celebrate this I got to finally use my newly bought tripod and took some shots of the surroundings while the others were enjoying their coffee inside. These are just a couple of them shots that I got. Night photography can be tricky if you only got your hands for support so being able to lug this tripod is a fulfillment of this timy dream to be able to take decent pictures at night. Hopefully I'd be able to bring this to the next level. Too bad I can't tell my friends about this back home right now.