Tuesday, May 23, 2006
One of my good friends from college,
Mike
, had a belated birthday celebration earlier today. It's been almost a month since he did celebrate his birthday but being the busy businessman that he is we only got to celebrate it now. He planned to hold it in one of his newer business establishments in Quezon City and I had no idea where that is so I had to contact one my closer friends in our barkada,
Joanne
, if we could commute together to where that place is.
I went to her office 4:30 pm and we took a taxi. Inside she told me about her recent trip to her home province in Bicol and showed me some videos she took. "It's so peaceful out there in the beach. We should go there one of these days," she said. But it would take a miracle to get us together again for an out of town trip since one half of the group were already married, some are already mommies and daddies, some are A.W.O.L. and the others are working outside of the country. In our college barkada right now, there's only me and Joanne who see each other on a semi-regular basis. Imagine my surprise when we arrived at the place and I learned later that we were going to have a full spa treatment on the house! It was first time to do so after deliberating to have one for almost a year now
(books, entertainment, and food are my priorities while clothes and everything else are on the far end of the totem pole)
. Spa treatments rock and the experience of having one helped changed my perspective of getting one at least once a month.
Afterwards we proceeded to have dinner in the Chinese resto located one floor below the spa. From personal experience, Chinese food tend to taste the same and it's really a rare treat to get that dish that stands out from the rest. Lucky for us this one's buffet. We had a great time exchanging stories and catching up with each other's lives along with stories about how the kids are faring. Really good friends who stay friends over the years are rare, but even rarer are the ones who think along the same lines as you do and also have the same interests. These people are real characters and were the subject of the college strip that I submitted for about half a year in the during the later part of the 90s
(the editor decided that the Magazine's readers were all growing up so I had to make my high school characters do the same and graduate from school. Not a believer in making comic characters grow up I pitched a new strip titled, "Upper CLASS" set in college peopled by Fine Arts students. The magazine eventually "fired" me by saying I had to pitch another strip as they were changing the whole look, I said no thanks and they eventually folded some three months later)
.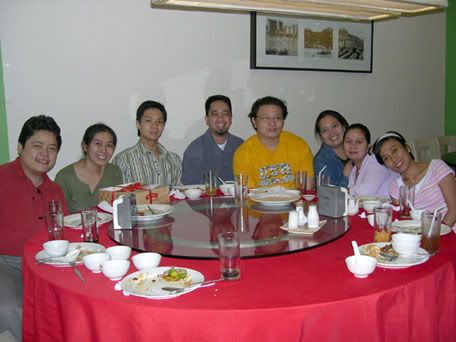 (left-right):
J'mee
,
Kwen
,
Mike
, me,
Andrew
,
Michelle
,
Moi
(Andrew's wife and honorary barkada)
, and
Joanne
.
We missed the good old days when we used to hang out in Mike's house or go out together laughing non-stop while we decided for a good half-hour or so where to eat. There were also the long goodbyes where everybody already made their intentions known only to linger around the parking lot talking and having the same old laughs. I'm not sure when we'll see each other again but at this stage it'll take another birthday
(either one of ours or their kids)
to get us together again.