Thursday, June 29, 2006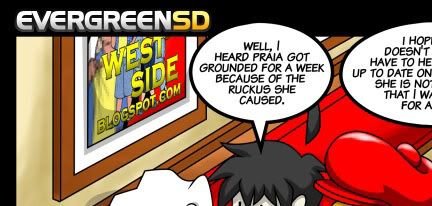 It's been an interesting day as the ad for the
West Side
strip came out in
Andrei's comic
today. If you can only see me right now with this stupid grin pasted across my face. It was his idea to post a poster-ad for the comic in the comic and, I'm ashamed to admit it, but I haphazardly put it all together since I didn't have any idea what to do anyway
(the story of my present creative life...)
. And there it was posted in the background of Andrei's comic. He did some minor editing but who cares? It looks a lot better than the one I submitted anyway.
Another surprise I can't wait to show you folks is this: one of my sites have been included in the list of links on the blog of one of the most distinguished Filipinos around,
Mr. Carlos Celdran
. To think that he considers it worthy enough to be advertised in his site is really something big for me. I'm truly honored and humbled by this gesture. Thank you, sir! In return I hope I could finally join one of your much vaunted tours and not only talk about it to friends and family.
Thursday, June 22, 2006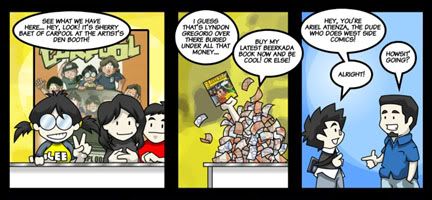 A post-Toy Con souvenir from
Andre
featuring
Syeri
&
Jon
,
Lyndon
, the artist himself, and me. Click the image to view the whole strip.
Friday, June 16, 2006


Here's Where the Story Ends (Running time: 04:05 mins)
This is a classic song from
The Sundays
, a British indie group whose style is best described as
Shoegazing
, with their lush melodic harmonies, fuzz guitar sound and lead singer Wheeler's voice, which tended to sit low in the mix. Drawing comparisons with
Cocteau Twins
and
The Smiths
, the band was widely heralded by the British music press after early gigs in London in late 1988. This single was originally released on January 15, 1990.
*
All information and reference are found in Wikipedia.
Thursday, June 15, 2006
This is a good example of creating a high impact punchline with as sparse dialogue as possible. This was one of the fastest I've ever done.


Jonas Diego
Jerald Dorado
Reno Maniquis
Edgar Tadeo
Wednesday, June 14, 2006
I edited the dialogue and tightened it up showing the tense relationship between these two. The writing (especially in the first panel) was influenced, or at least I tried to approximate, cool comic book writer,
J.M. DeMatteis
' humorous style of writing especially in the Justice League series.
*
West Side
is published weekly in
Philippine News
.
I always underestimate the time spent photocopying at the shopping centera in UP Diliman. Normally photocopying shouldn't take more than just a few minutes, tops. That's the amount of time I thought I would only spend the same time last year. In preparation for the upcoming Toys and Collectibles Convention
(which were graciously granted to our group by the hosts)
I thought of updating the indie comics for
CLASS
and coming out with the first indie comic for
West Side
. So I spent enough time collating the strips into pages, gathering enough sketches to fill in some pages, and writing an introduction of sorts for new readers. With the convention nearing its date I thought a day or two before the event would be enough for me to got to the photocopying place. There would be plenty of time for me to do my other stuff anyway, most of it involves printing posters and other artworks in Makati. That's what I thought anyway. And I thought wrong. Big time.
I even dawdled leaving the house sometime after lunch. When I got there I took my pick of the only place where there wasn't much people around. I probably tried out three to four shops before I buckled down to stick with the one that gave me no attitude. They were reluctant to print my stuff anyway, complaining that it would deplete their toner faster than anything else. But no matter where I went, they all told me I couldn't get it any faster than three hours. That is if they weren't giving me a snooty or apathetic attitude that they cannot do it. Good thing the service included a collating and stapling service. It was pretty cheap anyway so I couldn't compalin about the time they gave me. Fast forward to the present, I've completely forgotten what I went through last year. I still dawdled, miscalculated the amount of time used for printing the pages, and I still got the same snooty attitude from those I thought wouldn't give me a hard time. My first stop this year was the old place where I previously got my comics printed together with
Lyndon
. They were charging me Php5.00 per page printed after seeing what I had in hand. They had the gall to charge me that much when everyone around them were charging ¢60 per page. I settled down with one small shop that didn't have that much people inside
(which I thought would translate to "not busy")
but the one in charge gave three and a half hours' time, charged me higher than what I remember I got last year from another shop, and that didn't include collating services and stapling. You might be asking yourself why I just didn't return to the original shop that did my pages last year. I didn't want to hear the same grief they're sure to give me because of the toner thing, besides I was sure they'd turn me down this time. Feeling frugal and all I just hung around waiting for the time. I should have brought a book with me to make the time pass faster. What happened was I spent the entire time staring at the jeepneys and the people passing by. I spent what money I had on hand on ice cream and banana cue. The time waiting was even extended for a good
(good?)
thirty minutes more when I got there earlier than usual and found out that they haven't even started on my pages yet. I swear I'll either have to go a lot earlier next year or change shop again.
Tuesday, June 13, 2006


I Love Your Smile (Running time: 03:47 mins.)
Oo-oo!
Who else remembers this 1991 hit from
Shanice
? It's that cheesy but infectious beat she's got there that got the whole world humming along to her song. At least for a while till she disappeared from the scene.
Monday, June 12, 2006
There. I've finished the strip for submission. I'm not happy with the way it turned out as it happened. The thing with me these days is that I'm a lot too careful with doing things. Whereas before I would be attacking the paper with reckless abandon, eager to see what I would come up with to surprise myself these days I would pause and consider and reconsider what it is I'm going to do. Instead of putting my ideas to paper right there and then I hesitate and redo everything in my head. Or mostly reedit everything while it's still in the air thereby scattering those ideas and leaving me with nothing much to grasp and put into paper. The idea of taking risks is so alien to me these days I look back in my life some two or three years ago and realize that it wasn't always that way. I took risks. I considered what it was I was supposed to do, at least for a while to convince myself that it was safe and jump right in. I don't know when this whole thing started. All I know is that I take a lot of time considering things that by the time I need to take action the enthusiasm is already gone and the fresh ideas have already become stale. Like in doing the dialogue I would most often times criticize myself for not coming up with a good one and then the deadline comes and I'm forced to write something halfwit and not entirely funny. There may be times when I look back and read what it is I've submitted and surprise myself that it works but I still couldn't bear to live with it because the art sucks. It was done in a hurry and doing things in a hurry doesn't appeal to me at all. I guess I'll be adding this one to the ever growing list of strips to redo in the future. In the meantime I've still got one strip I've yet to do. The thing that bothers me with this one is that there is no deadline thereby prolonging my agony over it.
The things we inflict on ourselves for the sake of art.
Sunday, June 11, 2006


Part 1 of 11 (Running time: 09:53 mins.)
Been meaning to post this for the longest time. Those who still remember this,
SURPRISE!
To those who haven't got an inkling what this is, it's the classic Rankin-Bass animation from 1982:
The Flight of Dragons
.


Part 2 of 11 (10:01 mins.)

Part 3 of 11 (09:37 mins.)

Part 4 of 11 (09:25 mins.)

Part 5 of 11 (10:09 mins.)

Part 6 of 11 (09:57 mins.)

Part 7 of 11 (09:52 mins.)

Part 8 of 11 (10:11 mins.)

Part 9 of 11 (05:47 mins.)

Part 10 of 11 (06:04 mins.)

Part 11 of 11 (05:17 mins.)
This animation was based on both the books
The Flight of Dragons
by
Peter Dickinson
, illustrated by
Wayde Anderson
and
Gordon R. Dickson
's
Dragon and the George
.
Saturday, June 10, 2006
It was our first time to watch at the spanking new I-Max theater at the SM Mall of Asia and it was awesome. My brother and sister-in-law went with us, it being a weekend and all, and it's been a long time since we had them as guests whenever we go out as a family so this was real treat to have with us. As such, we were all talking and laughing on the way there just like old times. Even our parents dived in, exchanged corny jokes and laughed along with us. This was also a special time because we also got tickets for the showing of the upcoming "Superman Returns" movie which will be showing by the end of the month. Before we did, I was calling almost everyone I knew I wanted to watch the movie with us but unfortunately I was only able to get ahold of one. There was a bit of regret that maybe because I wasn't making an effort to communicate with them long before this. We had our dinner at Jollibee before settling down inside to watch the documentary about the Mount Everest climb in 1995. The screen wasn't as big as I imagined it would be
(it must be my imagination running but it looks as if the one we watched in San Francisco six years ago was bigger than this one)
. Yeah it was fun but it was also short and we had some nightcap in the coffee shop beside the exit. It would have been a nice quiet ending but some car-enthusiasts had been running a car show in the parking lot just outside the shop. You know how it is with these guys: stereos blaring music at their loudest plus the requisite sound of cars running their engines. Anyway, all in all it was a nice event filled evening for all of us.
Friday, June 09, 2006
It's been a real long time since I last saw this video for
Will2k
. Thanks to
YouTube
I can watch this over and over again with no problems whatsoever. Yey!
Thursday, June 08, 2006
This was from the time when we used to hang out the next door basketball gym where professional basketball players would practice. In the course of watching the practice and hanging out with them we not only got to know them but also their friends and family. One group in particular stood out from the rest, being Fil-Am and all they would almost immediately command attention especially since they were also big guys. This were the friends and boardmates of
Jeffrey Cariaso
. I got to know these guys courtesy of my brother who was one of Jeff's close friends.


Jonas Diego
Jerald Dorado
Reno Maniquis
Edgar Tadeo
Wednesday, June 07, 2006
For this strip I thought of creating a story revolving around collectible statues from the top of my head
(the Toys and Collectibles Convention is slated to be held middle of this month)
. I didn't have any solid idea for a back-to-school joke so I went ahead with this one. There were also some changes done to improve the humor and other what-nots with this one. You can see the original version that saw print
here
.
*
West Side
is published weekly in
Philippine News
.
Tuesday, June 06, 2006
I haven't been reading
PvP Online
for a long time ever since artist,
Scott Kurtz
, made uncalled for remarks involving theology
(it's one thing to not believe but it's quite another to poke fun using Jesus to make a comment against Christian beliefs)
. That said, I do have a bit of admiration for his work and that's what this video that he made was all about:
the making of his strip
. It's quite interesting if you're curious about what goes on in doing one.
Monday, June 05, 2006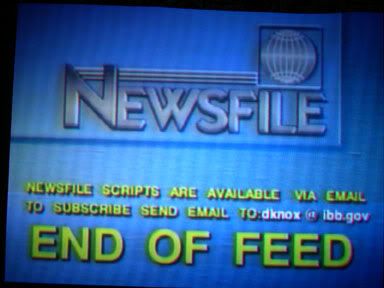 This marks the end of an era for me. Destiny Cable took Fox News off the air and replaced it with a generic channel.
Sunday, June 04, 2006
I don't how others would react to this movie
(and judging from the reactions I see online, it's bound to be either ugly or ambivalent)
Failure to Launch
is a fun flick to watch. Ok the story is a tad predictable and you can see the ending a mile away but who cares? You go see a movie to entertain yourself. Leave your logic at the door, sit back, relax and dig in your popcorn tub. The destination isn't as important as the journey itself and what a ride it was. How do you kick your own kid out of the house without hurting his feelings is the subject of this movie. Never mind the two protagonists as they did nothing but slow down the pace while the other, more interesting characters in this story prance around having the time of their lives. Not that
Tripp
(Matthew McConaughey)
and
Paula
(Sarah Jessica Parker)
weren't fun to watch go through the motions of courtship before dropping a "I'm-not-who-you-really-think-I-am" cliché when everything's turning up rosy. We've all seen the same thing before, notably like in that other McConaughey movie,
How To Lose a Guy in Ten Days
(they even share the same shapely blonde for a girlfriend)
. But aside from that minor quibble the movie and its cast succeeds in bringing us a very funny and entertaining story every American parent faces, exactly how do you kick your adult kid out of the house without hurting his feelings. And the two protagonists would have had a hard time keeping the story afloat if not for the priceless comedy scenes provided by the secondary characters like Tripp's geeky best friends,
Ace
(Justin Bartha)
and
Demo
(Bradley Cooper)
who were also in the same situation as he is except they have plans of moving out of their parents house, and Paula's gloomy roommate,
Kit
(Zooey Deschanel)
who was constantly being tortured by a Mocking Bird who took residence near their house. I bow to these three actors for providing most of the laughs. Major props also goes to
Kathy Bates
and
Terry Bradshaw
for also providing some of the laughs and the tender moments that rings true to every parent who're struggling with the idea of romance after decades of taking care of the kids. This one's a great addition to the movie library when the DVD comes out!
* Check out also the review in
Hollywood Jesus
for more insightful reactions to this really funny movie.
Saturday, June 03, 2006
You Are Wolverine



Small but fierce, you're a great fighter.
Watch out! You are often you're own greatest enemy.


Powers: Adamantium claws, keen senses, the ability to heal quickly
* You know it's a boring afternoon when I post online quiz results instead of writing about how boring this afternoon is turning out to be.
Friday, June 02, 2006
My dad's in the hospital again. Nothing serious, he's just in for observation. He was ordered by his doctor to be confined yesterday after she saw the report of his blood sugar this past few days. It gave her a good scare to find out it was flirting around 400 or so. Now usually I loathe the idea of staying over to watch for hours on end if only because the bare walls of the room deprived of anything colorful and cheerful save for the idiot box drains the brain. The position of the TV set high up on its perch also tends to leave a crick in the neck. But given the fact that that previous bad experience is now a distant memory I immediately said yes when she asked me to be her reliever for a few hours.
I brought my camera with me just for purposes of taking background shots inside a hospital room and just in case I come across something interesting. When I came into the room my dad was watching
Dude Where's My Car
on cable. Of course he had idea what that was, he's just too pooped to change and he couldn't care less what's on. I watched the movie as soon as I realized what it was and afterwards I took a walk down to the cafeteria to eat some late lunch. Later with nothing to do inside the room I took my camera and started snapping away at anything. The clouds were awesome, especially a dark ominous one in the horizon that signalled strong rains late in the afternoon:
I was right. When my mom came back to relieve me the rains came and a strong one at that. I asked our driver to let me down at the MRT station in Ortigas so I could go attend the Den meeting in Cubao. Watching water pour down from the skies with such strength was really a sight to behold as it hit and splashed against the windshield producing a sound that's music to my ears. What a great, beautiful day it is.
Thank you, God.
Thursday, June 01, 2006
This joke is so dated
(the
Del Pilar biopic
came out 1997)
I don't know if anyone would be able to get this. The centennial celebration of the Philippine Revolution was so high at the time I was more than inspired to come out with the book about their illustrious ancestor. Nine years later and I've yet do something about it. Anyway, check out more Thursday goodies in the webring below.


Jonas Diego
Jerald Dorado
Reno Maniquis
Edgar Tadeo
This close up shot was taken a couple of minutes ago up in the tall tree in our backyard. I've often heard the low chirp-chirping of this bird and this is the first time I've seen it. I have no idea what kind it is but it has a tuft of feathers standing up on its head and it's approximately a bit twice as large as the maya bird
(common house sparrow)
. I think it's just passing by and resting a bit before continuing on to God knows where. Any bird watcher out there knows what kind this is?