Thursday, June 29, 2006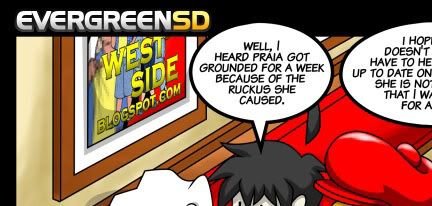 It's been an interesting day as the ad for the
West Side
strip came out in
Andrei's comic
today. If you can only see me right now with this stupid grin pasted across my face. It was his idea to post a poster-ad for the comic in the comic and, I'm ashamed to admit it, but I haphazardly put it all together since I didn't have any idea what to do anyway
(the story of my present creative life...)
. And there it was posted in the background of Andrei's comic. He did some minor editing but who cares? It looks a lot better than the one I submitted anyway.
Another surprise I can't wait to show you folks is this: one of my sites have been included in the list of links on the blog of one of the most distinguished Filipinos around,
Mr. Carlos Celdran
. To think that he considers it worthy enough to be advertised in his site is really something big for me. I'm truly honored and humbled by this gesture. Thank you, sir! In return I hope I could finally join one of your much vaunted tours and not only talk about it to friends and family.