Wednesday, September 06, 2006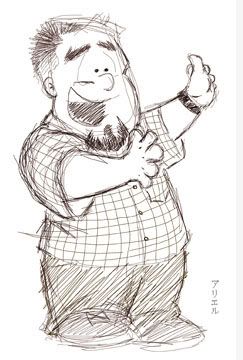 Why is it that I only get these ideas on what to talk about in a comic seminar comes the night before it actually happens? I try doing it days before the deadline and my mind goes blank. Not that I wouldn't know what to say but rather how to say it in a way that non-artists would understand and apreciate the hard work that goes into it. So I get these ideas on the way to the mall and it's as if a floodgate was opened and everything flowed, from topics, analogies, even to the illustrations I could use in the overhead presentations. The problem of course is that I'm so pressed for time there's no way I would be able to do that all without crashing the day after. I sighed in surrender to the inevitable and just went with the flow of ideas.
When I got home later last night I was so psyched with everything that came to mind I thought I'd have enough ideas to talk about for a good hour or so in the seminar. I was a bit disappointed when
Lei
sent back an answer to my text message earlier asking how much time would be alloted to each speaker
(there were four of us set to lead the talks: Lyndon, Patrick, and Lico)
. She said we'd only have around 10-20 minutes each. Ok so there'll only be enough time to do an overview about what it is we do. By the way, this is a seminar for the executive level employees of the
San Miguel Corporation
in Ortigas doing a monthly alternative program in their office. These are non-artists too so there's a bit of trepidation on my part. Past alternative seminars done on campus didn't exactly have receptive audiences what more in the corporate setting, right? Surprisingly, they were the total opposite of what we're used to. Those people who attended the seminar were very receptive, attentive, asked a lot of good questions, and reacted very nicely to all we said. Considering that they themselves said that they didn't know anything about the business they were really awesome to talk to. Afterwards over a scruptious lunch next door all we talked about were their experiences in trying to draw in elementary and high school, the use of CGI in movies, Filipino artists working in Pixar, and the lot. There were laughter and a overall great feeling that we're moving on the same page. We do hope to be able to interact with them again in the future. We left our cards so we're just hoping and praying they'll keep us in mind when something comes up that needs our expertise.
The good folks of SMC.
Huge thanks to Mr. Briones for the invitations and Lei for facilitating everything!