Tuesday, June 26, 2007
Here's a progress report on the much delayed book compilation of the
CLASS
comic strips in the works
months after the last one
. As you know it's been a long time coming with both family and friends repeatedly urging me to come out with one already. I held back for years as I deliberated how I can make it stand out from the local titles that came out in the market
(that and the fact that I was a wuss thinking nobody would buy on account of me not receiving any reaction from the general public back then and even now with the current series I'm doing)
. I initially came out with the book dummy around ten years ago when I used the series as part of my thesis back in college. Almost everything will be the same, the difference being that was planned to come out in full color whereas this one will be completely done in black and white to keep costs down. The inside pages containing the strips are now being prepped, the cover is currently being done and I'll be posting it online as soon as I finish it.
One of the features I'm most proud of in the titles I'll be coming out with is the inclusion of the bonus stories in each book as inspired by the
Calvin and Hobbes Treasuries
. With the first book I thought I've better come out with one of the best cartoonists around:
Andre Salvatierra
, whose
EvergreenSD
webcomic series made me an instant fan eversince the first time I read it. Here's a preview of the first three pages he's doing for the book: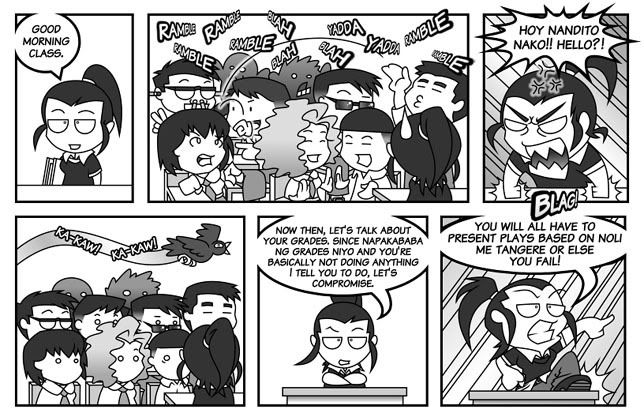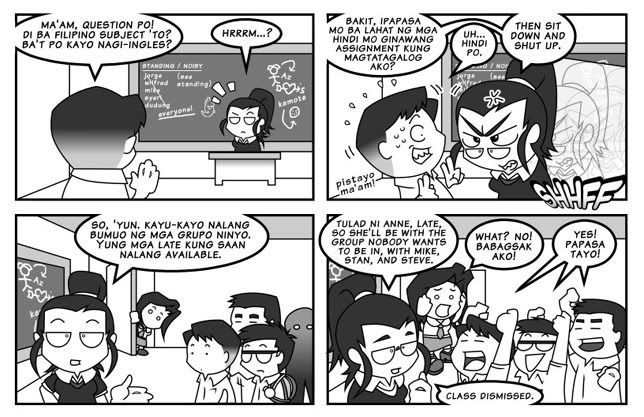 Yeah, me likey so much too! This is based on an idea for a story I came out back in the mid-90s which I proposed to him. We bounced ideas off each other on how to go about the plot and what the characters are like, then I stepped back and gave him a lot of breathing room to do what he does best with the material. And as you can see with the samples above we're already assured of double the laughter and the goodies in the upcoming book which I hope to release in time for this year's
Komikon
.