Wednesday, October 31, 2007
Today's Halloween and although a lot of people will be
playing dress up
or
the lack of it
, I'll be celebrating it my way starting this year by posting horrifying pictures or whatever in this blog. To kick off the celebration, take a gander at this tabloid headline:
Roughly translated, the main headline reads:
"Man slips under
a mixer; smooshed!"
The story is tragic in itself but the biggest horror story here is the headline itself. I barely got the last copy of the paper earlier this afternoon.
Sunday, October 28, 2007
Here's brown tab, aka
Suggs
, almost two months now all decked out and turning into a real handsome kid. Check out the almost perfect
classic tabby pattern
on his side.
Oooooooo...
Friday, October 26, 2007
Seems like the administration was forced to grant the pardon to avoid being run to the ground by the opposition after the huge controversy involving huge pay-offs in paper bags.
Estrada told The STAR he "had no choice" but to ask for pardon as he reiterated his frustration with the country's justice system.

"

But I thank God for enlightening the mind and conscience of Mrs. Arroyo in granting the pardon

," he said in a telephone call last night from his detention in Tanay. - GMA pardons Erap by Marichu Villanueva
Langya
, based on the above statement he's not even sorry about everything he did while he was in power. Click the screenshot images below from the
Philippine Star
to read the articles regarding the former President's pardon:
Thursday, October 25, 2007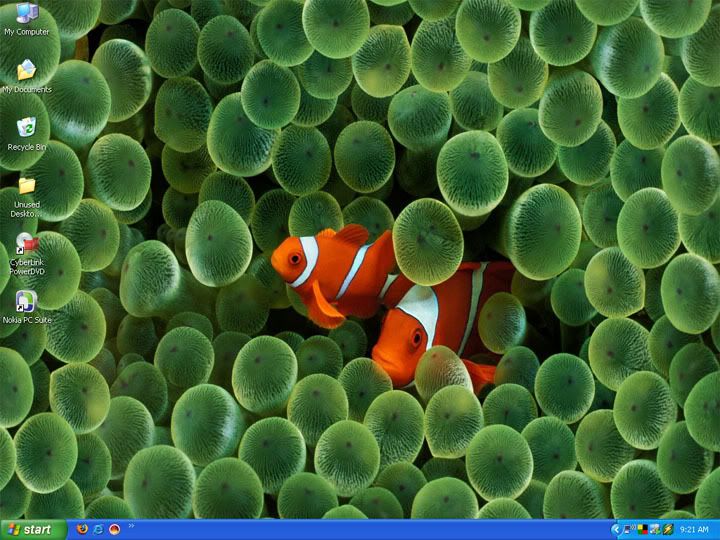 I got tagged by my old friend,
Reno
, for the "Show your desktop screen" game. I've been wanting to get this wallpaper for the longest time actually. Ever since I first saw it in all its brilliance in the Mac store. But since I don't have any intention of getting a Mac, just the wallpaper, I called up
a reliable friend
, told him what I wanted and he gave me this.
Sweet!
Oh yeah, as per the rules I didn't erase any icons here. I don't keep any unnecessary desktop icons I like to keep simple unlike my workspace. But then the clutter around the workspace is necessary to keep the creative juices flowing. Linear thinkers around me have a hard time grasping that idea.
Rules:



1.

Upon receiving this tag, immediately perform a screen capture of your desktop. It is best that no icons be deleted before the screen capture so as to add to the element of fun.



2.

Post the picture in your blog. You can also give a short explanation on the look of your desktop just below it if you want. You can explain why you preferred such look or why is it full of Icons, things like that.



3.

Tag five of your friends and ask them to give you a Free View of their desktop as well.
And now I'm tagging:
Lyndon
,
Lei
,
Syeri
,
Daniel
, and
Ganns
.
Thursday, October 18, 2007
Saw these real funny
Volkswagen: Unpimp My Ride
ads starring
Peter Stormare
(who did a great impression of Hannibal Lecter in "Constantine")
in tonight's
"Ad Persuasion
."
Wednesday, October 17, 2007
Drunk frat guys can be fun. Or former frat guys, that is.
Philippine News
' website still isn't updating their comic page so this here's what published today in the paper over there. The second panel's heavily influenced by
Frank Cho
's work whose
Liberty Meadows
I was reading for some time prior to creating this piece. I might give this one a tweak or two when I start coloring it.
Friday, October 12, 2007
GEOPHYSICAL YEAR:

From June 1957 to December 1958, the United States and the Soviet Union participated in a period of international scientific exploration of the Earth, a period known as The International Geophysical Year.

Global geophysical activities undertaken at this time included studies of the arctic regions, the upper atmosphere and the start of the orbiting satellite programs, as well as investigations of meteors, cosmic rays, gravity, glaciers and the oceans.

It was during this period that NASA was formed in the U.S.

But the real important experiments came when Walt Kelly had his characters take part in this international scientific research in his Pogo strips of '57 and '58, calling it the G.O. Fizzickle Year.

More information on the Geophysical Year is available online, for example at http://www.nas.edu/history/igy and http://history.nasa.gov/sputnik/igy.html.
This is the theme of one chapter from the long awaited compilation of
Walt Kelly
's
Pogo.
This is one of my favorite comics from childhood having read one book over and over from my Lola's house in Malolos. You can read a preview of that one chapter by clicking the image below:
Thursday, October 11, 2007
A Dog's Soul
Author Unknown
Every dog must have a soul
Somewhere deep inside
Where all his hurts and grievances
Are buried with his pride.
Where he decides the good and bad,
The wrong way from the right,
And where his judgement carefully
Is hidden from our sight.
A dog must have a secret place
Where every thought abides,
A sort of close acquaintance that
He trusts in and confides.
And when accused unjustly for
Himself, He cannot speak,
Rebuked, He finds within his soul
The comfort he must seek.
He'll love, tho'he is unloved,
And he'll serve tho'badly used,
And one kind word will wipe away
The times when he's abused.
Altho' his heart may break in two
His love will still be whole,
Because God gave to every dog
An understanding Soul!
You're really something if you weren't touched by this one.
PAWS
, in cooperation with Globe Broadband, invites all dog lovers to "DINE WITH PAWS", a Charity Dinner to be held at the Bonifacio High Street OCT 20 (SAT), 7pm.
There will be a red carpet where you and your dog can get your photos taken plus a delicious buffet for all guardians and a separate buffet for your dogs.
Celebrity friends and supporters will perform during the main program which starts at 8PM
Ticket Prices :
P1,000 for Humans without dogs
P1,200 for Guardians with dogs
Call 4751688 / 0917-8315970 for ticket reservations. Tickets may also be purchased at Hobbes and Landes -Fort Boni High Street and at the PAWS Animal Rehabilitation Center in Loyola Hts., QC. PAWS will deliver directly to those Metro Manila residents who will order at least ten (10) tickets.
All funds raised for Dine with PAWS will go to the PAWS Animal Shelter (PARC) which currently houses over 100 dogs and cats rescued from cruelty and neglect. The PAWS animal shelter has a monthly overhead cost of P75,000 - an amount that goes to the purchase of food and medicine for the animals and the payment of utilities and allowances for our skeletal staff of six.
Monthly donations do not even reach 1/4 of the amount of overhead expenses and so we have to organize a lot of local fundraising events just to get by.
To read more about PAWS work, please go to
www.paws.org. ph
Wednesday, October 10, 2007
Guess what detail I forgot when I submitted this strip?
I almost didn't push through with putting that line in the last panel. I did plan to do this in its entirety but I began having second thoughts when I was halfway through with it and considered putting that line in the second panel and then have Mark say, "Got you!" in the last one. I was worried I wouldn't be able to follow this up but then these are the kinds of stuff that make comic characters interesting. So, is he a murderer? Is he going to turn against his brother-in-law with a meat cleaver or broken beer bottle? Stay tuned for next week's strip.
Tuesday, October 09, 2007

Okay, another question: Who looks more like the iconic "smiling kitten" between these two? I know! I'm partial to the one on the right and, hey, they're still a month old so things could change. But that li'l girl's a charmer.
Monday, October 08, 2007
Which is cuter? Brown Tab
Or, Silver Tab?

Let's put it to a vote. Post your opinions on who you think is the cutest of the two in the comment section below.

We already joked about this last week but it still made me
.
Friday, October 05, 2007
We get
Jet Lee
running up walls and grabbing beers to impress a couple of girls for the biggest name name brand while
Carlton Draught
has this
Big Ad
?
Grrr! Who's impressing who? How come I missed this? Big, big thanks to
Discovery Travel and Living
channel for devoting an hour to
Ad Persuasion
so I won't have to miss any more of these.
Thursday, October 04, 2007
This is one of the roughs for the opening page of the introduction of the characters inside the book compilation of
CLASS
. I would have left it in pencils as I like the looseness and spontaneity of the lines as opposed to the cleaned up version later on. You'll also notice there are three versions for the right arm as I wasn't yet decided
(at the time, at least)
where it should be naturally positioned in the middle of the action. Anyhow, I'll be posting some more previews of the other pages in the coming days or weeks ahead.
Labels: CLASS book, pencils
Wednesday, October 03, 2007
For some reason
Philippine News

' comics section
isn't updated anymore so for the benefit of those who missed it I'm posting the whole set that came out last month here:
Ben Sr.
's brother-in-law and the late
Patty Flanagan
's younger brother
.
He'll be staying around for a while he does an audition for a job in Singapore. He's also going to be instrumental to the story I'm planning for the Holiday Season which is going to be rendered in the grand Hollywood tradition of Christmas horribly gone wrong in a comedic sense which I hope to pull off successfully because it's going to be a whopper. Anyhow, here's the strip that appeared in the paper today: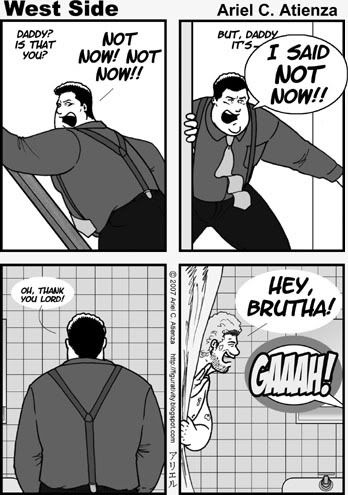 You can take comfort in the fact that there will be some tweaking here and there in the final colored versions of these strips.
Tuesday, October 02, 2007
I'm still working on the new pages for the book
(I'm up to two pages now, don't laugh I'm working hard here)
and I'll be posting some pages later so you'll see what I'm up to. In the meantime I bought a couple of magazines earlier that's worth checking out:
Check out the cover of the first one. Black and white photography is
sweeeeet
! I've been trying to go at it in college and I'm hoping to get to the next level with my photography by doing portraits. Grab the latest issue of
Digital Photographer
while it's still available. This is a must-have if you're really serious in perfecting your craft.
The new issue of the local
Town&Country
magazine is also wicked if only for the article about one of the biggest patrons of Philippine culture and arts,
Lizzie Zobel-Ayala
! To think she's not originally from this country she's a lot more Filipino than
*cough!* *cough!* *ahem*
. Lots of things to inspire you in there if you're into architecture and interior design, check out rich guy,
Anton Roxas
' interior, one of the features is notable because it was inspired by his pet dachshund!
In the meantime check out this gold nugget from the old
Sesame Street
, it's Cowboy X terrorizing the good citizens of Sniddler's Gulch with Xs.
Those who grew up during the program's peak twenty years ago will know what I'm talking about and get a big laugh out of this one. It's one heck of a way to teach the alphabet to kids like me in those days.
"
X!!! X!!! Yiiiiiiipeeeeeee!!!
"
This is a rough draft of the wrap around cover for the much delayed compilation of
CLASS
which I only finished a few days ago. Originally slated to be released in time for the 3rd Komikon on Nov. 17 I'm delaying it again for reasons I enumerated
here
. My apologies to everyone who's looking forward to seeing it in print after so many years of raised expectations, please hold on for a little more. I promise you the long wait will be very much worth it.