Tuesday, July 29, 2008
While the whole of Geekdom salivates at the
teaser trailer of

Watchmen
, I can't help but feel left out. In a way, apathetic about the whole thing. I was intrigued with the prospect of
Director
Zack Snyder
taking on the project when it was announced on a small box among other movie news about a month after
300
. Back then it was a piece of news that somewhat excited me having heard of the graphic novel, and seeing the cover displayed in comic book shops here and abroad, for years but now that the hype's being built up around it with the release of the first trailer I'm like
"hmmm... what?"
It's like
Sin City
all over again. I also didn't get what the heck was the excitement in all that was all about
(include the "Kill Bill" series there too)
. While I'm totally "with it" that Hollywood's too bankrupt with original ideas to finally embrace the one medium any one thought was too childish in the past to take seriously but I'm personally drawing the line on hyping it up too much beyond its original intent. This not only applies to things that have only come out in previews but also around good things that have been around till it entered the mainstream and its own popularity proved to be its own worst enemy, if not, its eventual demise. I won't enumerate what these things were
(I've been branded an elitist for thinking some things should be left alone under the radar and not be touched by the mainstream)
but I'll have this to say about the upcoming
Watchmen
movie: I'll rave about it
after
I'm finished watching it on the big screen. Till then please allow me the luxury of
waiting
, free from any expectations whether raised or shot down. Thank you.
* On a related note, cartoonist,
Scott Kurtz
said something similar about this annoying phenomenon
.
Labels: comics, comics related, embarrassment, movies
Friday, July 25, 2008
Fixed the
Bloground Muzak
widgetmacallit
at the left bar
(the one that looks like an old cassette tape right below the clock)
which plays different New Wave tunes from the 80s. Unlike the old b.g. music which starts automatically, no doubt annoying the socks off a lot of you, you'd have to click the play button on this one to get it to start. It also plays different tunes unlike the old one which played only one song.
Titles, version/s of the song
(mostly rare extended tracks)*
, and name of the artist/s are included in case you're curious. On a related note I found this cool local blog which not only reminisces on the old times but also includes a lot of new wave songs for download and stuff -
Julia's Club Eighties
.
* Nobody does extended or mix versions of original songs these days, which is sad, really. But then again a lot of them new songs aren't good enough for extended or club mix versions anyway. I'll also be updating the list every now and then to include other types of music I also like.
Labels: awesome, cool, history, reminiscing
Tuesday, July 22, 2008
Here's an unfinished one comic page
(
CLASS
)
for a new up and coming local comic magazine. I haven't incorporated this much
manga
-ish elements in a very long time
(the last being close to ten years ago in GLITTER Magazine pa)
so you could probably tell I really enjoyed doing this one. In contrast to my gig in
West Side
where coming up with an idea and drawing it has become quite a chore. It's also interesting to note this will be the first time
CLASS
will be published in full color.
Yay!
Labels: art related, cartoons, comics, cool, funny stuff
Sunday, July 20, 2008
Komiks related merchandise announcement from my friend and fellow cartoonist,
Manix Abrera
:
yey! meron na po uling bagong stock ng tshirts :D





kung sakali pong gusto ninyo mag-order, sabihin nyo lang po kung ilang shirts at anu-anong designs. tapos mabbabayad lang po sa BPI acct# 4055 0330 78 Manuel Luis L. Abrera :) tapos kapag ok na po, ipapadala na agad sa inyo thru LBC (email nyo po ang complete name at address din niyo) :D





350po ang isang shirt + 100 for delivery. pero pag 2 shirts po, free na ang delivery :D yey! hehe :)
* Click image to view the initial available designs.
Labels: art related, cartoons, comics, funny stuff, merchandise
Something new from the
Department of Forwarded Mails
:

To All of Us Who Were Born in the 1950's, 60's and 70's

First, some of us survived being born to mothers who did not have an OB-Gyne and drank San Miguel Beer while they carried us.

While pregnant, they took cold or cough medicine, ate isaw, and didn't worry about diabetes.

Then after all that trauma, our baby cribs were made of hard wood covered with lead-based paints, pati na yung walker natin, matigas na kahoy din at wala pang gulong.

We had no soft cushy cribs that play music, no disposable diapers (lampin lang), and when we rode our bikes, we had no helmets, no kneepads, sometimes wala pang preno yung bisikleta.

As children, we would ride in hot un-airconditioned buses with wooden seats, or cars with no airconditioning & no seat belts (ngayon lahat may aircon na)

Riding on the back of a carabao on a breezy summer day was considered a treat. (ngayon hindi na nakakakita ng kalabaw ang mga bata)

We drank water from the garden hose and NOT from a bottle purchased from 711 (minsan straight from the faucet or poso)

We shared one soft drink bottle with four of our friends, and NO ONE actually died from this. Or contracted hepatitis.

We ate rice with star margarine, drank raw eggs straight from the shell, and drank sofdrinks with real sugar in it (hindi diet coke), but we weren't sick or overweight kasi nga...

WE WERE ALWAYS OUTSIDE PLAYING!!

We would leave home in the morning and play all day, and get back when the streetlights came on. Sarap mag patintero, tumbang preso, habulan at taguan.

No one was able to reach us all day (di uso ang cellphone, walang beepers). And yes, we were O.K.

We would spend hours building our wooden trolleys (yung bearing ang gulong) or plywood slides out of scraps and then ride down the street, only to find out we forgot the brakes! After hitting the sidewalk or falling into a canal (sewage channel) a few times, we learned to solve the problem ourselves with our bare & dirty hands.

We did not have Playstations, Nintendo's, X-boxes, no video games at all, no 100 channels on cable, no DVD movies, no surround stereo, no IPODs, no cell phones, no computers, no Internet, no chat rooms, and no Friendsters. .. WE HAD REAL FRIENDS and we went outside to actually talk and play with them!

We fell out of trees, got cut, broke bones and teeth and there were no stupid lawsuits from these accidents. The only rubbing we get is from our friends with the words... masakit ba ? pero pag galit yung kalaro mo... ang sasabihin sa iyo... beh buti nga !

We played marbles (jolens) in the dirt , washed our hands just a little and ate dirty ice cream & fish balls. We were not afraid of getting germs in our stomachs.

We had to live with homemade guns gawa sa kahoy, tinali ng rubberband, sumpit , tirador at kung ano ano pa na puedeng makasakitan. .. pero masaya pa rin ang lahat.

We made up games with sticks (syatong), and cans (tumbang preso) and although we were told they were dangerous, wala naman tayong binulag o napatay. Paminsan minsan may nabubukulan lang.

We walked, rode bikes, or took tricycles to a friend's house and knocked on the door or rang the bell, or just yelled for them to jump out the window!

Mini basketball teams had tryouts and not everyone made the team. Those who didn't pass had to learn to deal with the disappointment. Wala yang mga childhood depression at damaged self esteem ek-ek na yan. Ang pikon, talo.

Ang magulang ay nandoon lang para tignan kung ayos lang ang mga bata, hindi para makialam at makipag-away sa ibang parents.

That generation of ours has produced some of the best risk-takers, problem solvers, creative thinkers and successful professionals ever! They are the CEO's, Engineers, Doctors and Military Generals of today.

The past 50 years have been an explosion of innovation and new ideas.

We had failure, success, and responsibility. We learned from our mistakes the hard way.

You might want to share this with others who've had the luck to grow up as real kids. We were lucky indeed.

And if you like, forward it to your kids too, so they will know how brave their parents were.

It kind of makes you wanna go out and climb a tree, doesn't it?!


PS - The big letters are because your eyes may not be able to read this if they were typed any smaller (at your age).
Labels: aaahh, cute, funny stuff, history, reminiscing, waxing poetic
Thursday, July 17, 2008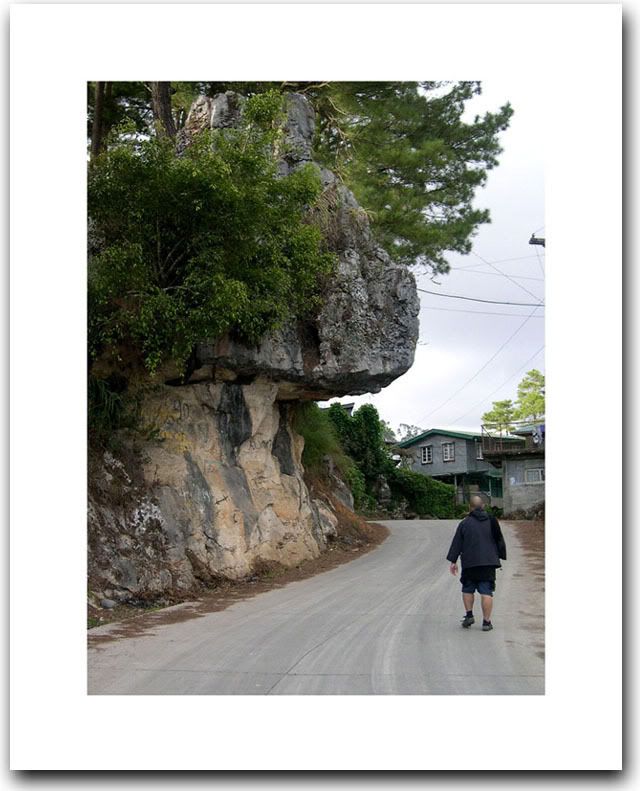 Long Road Home
This is part of the backlog of photographs I took between 2007 and early 2008 I've been uploading to my DA page. I couldn't decide between this colored copy and the black and white one, eventually the latter won after a day's worth of deliberating
(the
monochromatic version
looked more dramatic)
. This was a very close second so it's still worth uploading.
* That's my friend,
Rollan
walking ahead after we spelunked down one of the deep caves of Sagada January last year.
Labels: art related, barkada, nature, reminiscing