Monday, April 27, 2009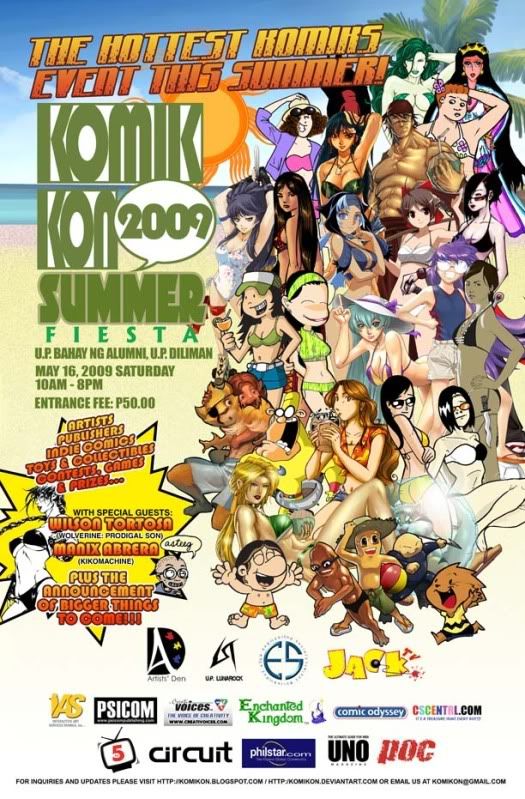 KOMIKON SUMMER FIESTA 2009




UP Bahay ng Alumni, UP Diliman




May 16, 2009, 10am-8pm, Saturday




entrance fee: P50.00



with Special Guests...


Wilson Tortosa

(Wolverine: Prodigal Son)

and

Manix Abrera

(kikomachine)



Join our PALARONG PINOY including our first ever "KOMIKON IDOL"!!!

(para sa mga mahihilig bumirit)



see you all there!!!
Labels: aha, art related, awesome, comics, comics related, cool, entertainment, events, feast, happy gathering, launching
Thursday, April 23, 2009
Posted below is a copy of the letter the Philippine Animal Welfare Society (PAWS) sent to the UP Dean of Physics regarding the incident with JC Candare and the kitten he killed:
Here's the reply PAWS got for the above
Response from UP College of Science Dean RE: Joseph Candare
From: Caesar Saloma




Subject: From Caesar Saloma/20 April 2009/Mr Candare




Date: Monday, 20 April, 2009, 6:56 PM




20 April 2009





Ms. Nita Hontiveros-Lichauco




President




The Philippine Animal Welfare Society, Inc




New Manila, Quezon City





Dear Ms. Hontiveros-Lichauco :





This is to acknowledge the receipt today of your letter dated 17 April 2009 concerning Mr Joseph Carlo Candare who made an entry in his blog that he killed a cat in a manner that is pathetic, appalling and worrisome.





The College of Science (CS) does not tolerate the cruel treatment of animals by any of its scientist, researchers and students. Mr Candare is a BS Applied Physics student of the National Institute of Physics (NIP) which is one of the eleven constituent units of CS (www.science. upd.edu.ph).





I will ask the NIP Director, Dr Arnel Salvador to meet with Mr Candare and to demand an explanation about the acts that he mentioned in his blog. The NIP will make a recommendation to my office about the possible action(s) that can be taken against Mr Candare according to existing University rules and regulations.





I assure you that the Office of the CS Dean will handle your serious concern promptly.





Maraming salamat po.





Sincerely yours,




Caesar Saloma




–




Caesar Saloma, PhD




Professor, National Institute of Physics




Dean, College of Science




University of the Philippines




Diliman, Quezon City 1101, Philippines
Hope he learns his lesson and really reforms from his old ways. What I'd wish and really want right now is for me to read an article one day with his name championing the cause of animal rights.
Labels: cats, discovery, embarrassment, events, kittens, sad news
Friday, April 17, 2009
The young cat killer posted an
apology
today in his blog about the
(now deleted)
incident he was so proud of:
Here's one reaction from the
Cats' Lair
group whom I'm a member of and I agree with:



Everyone,





All we need to do is get this guy expelled from UP, please write to: The NIPS Dean and the College Disciplinary Committee. This guy needs a police record and psych counseling stat.





NIPs is the National Institute of Physics? If this guy graduates from UP or anywhere in the country, he'll be a physicist with psycho-sado terrorist tendencies. Imagine him in a lab with a laser and a cat victim-to-be.





2009 Code of Conduct


http://www.science.upd.edu.ph/nip/images/pdfs/draft%20-%202009%20student%20code%20of%20conduct.pdf


Would like to complain on Section 1.3 Harm (Section 1. Acts of Misconduct and Sanctions for Students) but descriptions don't apply (harm to persons or things), kitty abuse and murder neither person nor thing, unless you can make "future potential harm to persons" stick.



Found this,

pg.21 of 83

:


Acts of Misconduct




e. Engaging in disgraceful conduct within University premises;





Sanctions




Admonition to expulsion. The student may be advised to undergo counseling.





Section 1.6. Any other form of Misconduct




Acts of Misconduct




Engaging in any other form of misconduct, whether within or outside




University premises, which affects the good order and welfare and/or good




name of the University.





Sanctions




Admonition to expulsion.





pp. 39 of 83


http://www.science.upd.edu.ph/nip/images/pdfs/draft%20-%202009%20student%20code%20of%20conduct.pdf


Section 1. Disciplinary Bodies




There are three (3) disciplinary bodies in the University: the Student




Disciplinary Council (SDC), the College Disciplinary Committee (CDC) and the




Inter-College Disciplinary Committee (ICDC).





What if he bores of cat murder and gets aggressive with people? Does UP Diliman want to give him powerful science skills to use against living things?
Posting reactions on his blog would only invite more laughter and derision from him and his friends
(which you can see in the comments below the so called apology)
. Better bring this incident to the attention of the proper authorities.
* I edited the post to delete some comments I made making fun of his apology and against his person. The apology may be sincere and I'd like to leave it at that. The boy certainly needs help and making fun of him online won't do anything constructive. I just hope he rightly responds to therapy and that good people surround him and influence him toward a better life.
By the way, someone sent this picture in the mail of the kitten he carelessly killed.
Thursday, April 16, 2009
You can read a
longer screenshot of the whole thing
including the comments made by various people who read the now-deleted post. I'd post his blog address and/or Friendster but I won't sink to the level of this schmuck.
"You've got to ask yourself one question: Do I feel lucky? Well, do ya, punk?"
Labels: cats, discovery, embarrassment, sad news