Sunday, January 27, 2008
Jundee
, which was held at a
dampa
style eatery by the Marikina River Banks. It was my first time both at the eatery
(it wasn't as developed the last time I was there along with the founding members of the Den some years back)
and with them in this kind of celebration, opting to excuse myself in the past because of some things I had to attend to.
We were supposed to meet earlier in the afternoon during the Bible study but I wasn't able to go because my uncle and aunt from my mother's side were having a farewell party
(despedida)
before they immigrate to Los Angeles. Anyhow, the place was ok. Reminded me of the old
dampa
when things weren't as organized as some places now are like the ones in Libis or Hobbies of Asia in Pasay. There were around fifteen guests all in all, some of which were the old peeps from the original group whom I've haven't seen for quite some time. One of the more interesting things I should mention is the uncanny similarity of one of my acquaintances with my friends from high school. I'm talking about our old study leader,
Wendel
. He's a bully type big Spanish-Chinese mestizo who looks a lot like his older brother except for some minor differences
(of course)
and is as close to him as well. Compare this with my friend
Jorge
from high school who's a lot like them in every way. I'm left thinking about the uncanny similarities in the pattern which is weird in a cool kinda way.
Back to the festivities, as to be expected in these kinds of places we miscalculated the amount of food that could be consumed considering that almost all the guests were males whose appetites are legendary. We had a third of food left over and a huge mound of white rice sitting on a plate when we left. And to think we were all famished when we first arrived.
Labels: barkada, birthday, feast, happy gathering, vcf
Saturday, January 26, 2008
This is a very rough sketch of a couple of new birds I saw in our yard these past few days. It's because of this accidental tree we have in the middle of it that attracted these birds
(I say accidental because it was just one of those saplings that were originally planted in one of those mobile plant boxes and replanted in this cement one beside a wall. We let it grow tall and I think it hit paydirt with the underground sewer and so grew up to be this huge magnificent tree)
. This one's different from the other birds I've blogged about some months back that whistles this one tune over and over again. This one gives out short tweets like the sound of paper or plastic being squished
(sorry, it's the closest thing I could come with)
. It's bigger than the Maya
(
House Sparrow
)
and when it perches near the ground it fans out its tail like so. I haven't anything like this before and I was hoping maybe a bird watcher or two out there could help me identify it. It has black or dark gray feathers with a hint of brown, I think, and white feathers underneath on the chest and throat like a penguin.
Friday, January 25, 2008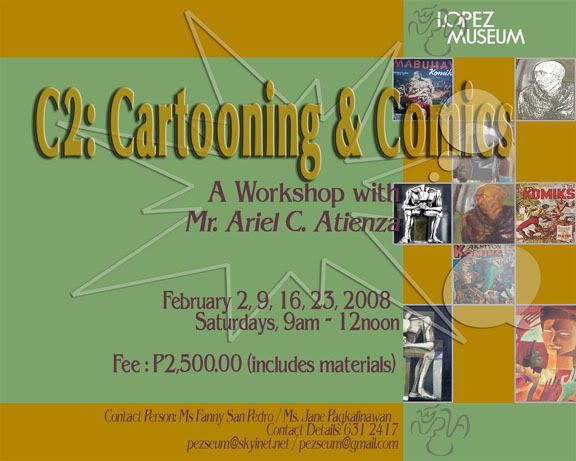 Here it is! I used to swing by the
Lopez Museum
back when I was in college more than a decade ago. It was right before the centennial celebration of the Philippine Revolution, because thanks to Mr.
Ambeth Ocampo
, a historian who writes in the op-ed page of the Philippine Daily Inquirer, I became hooked on the fascinating facts that history teachers back in high school left out of the discussion. I was so fascinated in fact that after a few years of heavy reading on the stuff I decided to come up with the most ambitious project that hasn't been really tackled in the
komiks
world: to cover the whole period of 1872-1901 in graphic novel format. It was in the middle of all the research for that
(and my first take on the thesis)
that I came to this place.
Although I've yet to complete the first issue of the GN beyond the thumbnail sketches I did, I think it's an honor and a real privilege for me to be invited to this place as a speaker on a subject I really, really love.
Wow.
Wednesday, January 09, 2008
I've never yet explored the extent of the relationship between these two brothers basically because the back stories have never been as clear as they were back then. Originally the role of
Ben Sr.
was a protector
(he was a big bully in school back then)
of his younger brother,
Henry
which the latter resented because he wasn't able to stress his identity away from his older brother's shadow. That changed with the appearance of the eldest brother whom Henry resents because the two older brothers constantly picked on him, with the eldest,
Joseph
, masterminding the pranks.
Labels: Philippine News, reminiscing, West Side comic
Monday, January 07, 2008
Here's a video of the segment with the rats. I know I'm contradicting myself with what I said in my earlier post and I don't know why I'm even posting this when I can't even watch it myself. But for the sake of those same friends who didn't see the episode about the rats please tell me how it turns out.
Viewer warning though about the guy eating live baby rats, or so I was told.
Gross.
Labels: curios, embarrassment, interview, pet rats, tv
Sunday, January 06, 2008
This is a curious picture I took with my phone. It's a small print of what looks to be a 18th century painting hanging above the sink inside the bathroom of the bar/resto me and the rest of the people were hanging out last night during the birthday of my friend. The picture I took is only half of the painting, the other half showing another couple being lovey-dovey to each other.
This is curious because of the nature of the prank being played on the lady. It was curious only at first though. Initially I thought the painting played on a racist theme with the guy putting on a
blackface
to scare the wits out of the girl. The period of the time being so "innocent" people usually frowned upon those who weren't as fair skinned and readily associated those with darker complexions as someone associated with the ones living in the netherworld
(if you're familiar with history you'll know what I mean so I don't to spell it out)
. It was in this context that I saw the picture.
I only realized now upon doing research, while writing this thing at the same time, that, based on the guy's costume, he was a
harlequin
(the ancient equivalent of clowns)
and harlequins put do put on blackfaces. As to why they do what they do, I found out that I
uh...
wasn't too far off with my earlier assumption. The guy really was scaring the wits out of the lady because he was playing the role of someone from the netherworld. I forgot what the point of this whole thing was anyway.
I didn't say this in yesterday's post but I really don't like watching or hearing myself on TV or elsewhere. I feel real awkward doing so. I mean I only got over my fear of public speaking in the last couple of years or so because of the seminars and alternative classes I've helped facilitate but seeing myself on the monitor makes me cringe. Add to that fact the folks at home didn't seem too pleased at the fact that I was being interviewed and will be seen on primetime TV for talking about and taking care of rats. It was like they 're already anticipating the questions from their friends about my hobby.
Some people sent me a text message last night telling me how surprised they were when they saw the interview
(short though it was)
. The first news was a call of mostly squeals of astonishment and delight from a fellow cat lover whom I met
online
. Other comments poured in the next couple of hours. A lot of them were wondering why didn't I tell them I was coming out on TV. I only actually informed just a handful of the
possibility
of me being on the program that night. I saw the trailer for last night's episode in my friend,
Stanley
's house earlier in the evening
(a very late Christmas party for "Topak Magazine" artists)
and there wasn't anything in it to indicate they would be showing it that night. Although my mom did tell me they were showing it as scheduled but even then she wasn't sure it was going to push through. So you could imagine my apprehension later that night during the birthday celebration of my high school buddy,
Jorge
(you can see him in my
comic strip
)
. There were a lot of people: his wife, older brother and his girlfriend, his younger brother and wife, badminton friends, friends from the military, friends of friends, friends of the girlfriend of friends... You get the idea.
We haven't seen each other in months and the last thing I want is to talk about is what I was in TV for
(they only know I draw comics and do it well but they don't know that I also have unusual pets)
. I don't know, it sounds took geeky and I didn't want to go in into details on why and how I had them for pets. I don't want to talk about these things in front of people I don't know while they're eating
kaldereta
and sashimi. You won't have any idea if and when you offend anybody with the topic or someone makes a careless comment about these animals. Like I said before I don't like the attention so it's just better to keep quiet and all.
Friday, January 04, 2008
A local TV network came over to the house earlier to interview me about my pet rats. I got the call for the interview last night when I was in a hedgehog breeder's home in Quezon City. We were talking about our hobbies and how a couple of the
Philippine Pet Finder
forum regulars were interviewed by the same network. He then mentioned that he was contacted thrice by the TV people to feature him and his hobby and how he turned them down also three times. We were in the middle of this discussion when my phone rang.
They were supposed to interview another rat enthusiast from Cavite
(who also got his stock from me)
but he declined and gave them my name.
Al
(the caller)
asked me lots of questions about my background in caring for these rodents blah-blah-blah
(I stopped breeding and might go back into it again if the conditions are right)
. They set the interview today and the first schedule they gave me was 1 pm. I said OK. I went out early to the pet store to get some extra supplies like water bottles and new food bowls. Then he sent me a text asking if they could move it to 10 am. I told them it was OK with me but I have to check with the family if they'd agree. Then after an hour or so they sent another text message apologizing and said they're moving it back to 1 pm. Then earlier today they said they'll be over at 5 pm since they'll be coming from Laguna.
I said OK but come 5 pm Al called again and said they're pushing it to 8 pm and if I'm still agreeable with the time? I told them I had a meeting at 7 pm, sighed and told him OK I'll wait. I informed the others I'll be late for the meeting. Come 7:30 pm the camera crew pulls over in front of our house, bring in their equipment
(a TV camera and a tripod)
and sets them up in our living room. They spend the next hour recording me playing with the little rascals, introduce them by name, feed them and simulate me giving their tails a bath. The interview itself consists of around 8 questions which I think I answered well but not as comfortable as I should be had they given me the questions beforehand. When they finished, my friends informed me they won't be able to stay for long and are in fact going home. Feeling disappointed about how the way things went I still made my way to the mall with the intention of just walking around and having a bite to eat. Thing is what was supposed to be a short stop inside a used books shop extended a good half hour when I found a treasure trove of books which effectively took off a huge chunk of my salary. I'll tell you guys about those books tomorrow, right now I've gotta sleep.
Copied this from one of the
forums
I'm frequenting. It was a serious, innocent yet valid, question from a newbie but the answer from what I'm guessing to be an oldie hiding behind an "alternick" couldn't resist answering thus:
is "HUMAN MILK" ok for dogs to drink...?????

ok yun sir.. na try ko sa dog ko... after 2 weeks natuto sya magsalita



* * *



use a cleaver.. yung pinakamalaki. pag nahati yung cavy mo sa 2 ibig sabihin mali ginawa mo. lagyan mo nalang ng betadine tas ilibing mo.

diba yun yung rak en rol (his reply to the discussion about accidents while clipping guinea pigs' nails)



* * *



pakainin mo ng oresol

tried it on my cavy patay agad... yung cavy ko. (on deworming cavies)
His smartass answers ticked a lot of people off, especially in the small animals forum who immediately reported his post to the site admin. I do admit it's got a sadistic side to it flamers posting comments like these are still mild in my opinion and it's best that they ignored him instead of feeding him with posts retaliating to his.
* UPDATE: It wasn't an alternick like I mentioned earlier but a cousin of one of the forum regulars who says he's got a bit of a loose screw that's why he posts things like that.
Thursday, January 03, 2008
Meet
Montmartre
("mohn-mart")
and
Provence
("proh-vons")
:
They're half moggie and half doll face dilute Calico Persian. They're in this small family owned pet shop and they were originally advertised as Persian kittens but they weren't
(they shouldn't be anyway)
as priced as such. This is their mom:
A bit scrawny and unkempt but you could still see the potential. They inherited some of their mom's shaggy hair and their dad's hair and eye color. They're still two months and they won't be coming home till the 17th of this month.
This is an actual ad for a local pet store I found online. Now, now we shouldn't be laughing at other people's mistakes. No, really.
Labels: funny stuff, grammatical errors, signages
Wednesday, January 02, 2008
Here's this week's strip featuring the dreaded in-laws.
Dun-dun-dun!!!
You can
check out last year's strips
where
Tom
and
Grace Flanagan
first appeared so you can find out exactly what the dread is all about.
Labels: in-laws, Philippine News, West Side comic
Tuesday, January 01, 2008
Doesn't anybody check these things before putting them up?
Labels: funny stuff, grammatical errors, signages
It's a brand new year and like what me and my brother do annually for the past four years or so we go by ourselves to join the countdown, watch and take pictures of the fireworks display in Makati
(we took a break from it last year to watch the fireworks at the back of Mall of Asia with his fiancee, now wife)
. What made the whole thing memorable was the spontaneity and rawness of the celebration. Bands and singers take over the stage with nary any interruption from any host or hostess making a huge bum of themselves. It was like
Fête de la Musique
only bigger.
This year the local government of Makati took over the celebration themselves taking along with them one of the two giant TV networks to cover the event. That's what spoiled the whole thing. The crowd was still there but they weren't there to hear unscripted spiels that border on insults to try and get a reaction from the crowd or even politicking from the government people be they part of the administration or the opposition
(in this case the latter with then entertainer now councilor of Makati City,
Rico J. Puno
, calling [still] Mayor
Jejomar Binay
the next president of the Philippines. This was met with awkward silence and one person we passed by reacting, "Ha? Ano yun?")
.
Itchyworms
was already halfway through their set when we arrived. I never paid them much attention before but they have really good songs. So much so even some of the foereigners in the crowd nodded their heads in sync with the rhythm. I became a fan by the time they finished playing. I do regret not being able to take a shot of them playing but I did however manage to take a video of
Kamikazee
which you can watch below:
As you can see the set was really picking up when they were rudely interrupted 10 minutes before midnight to feature the TV network's dancers in white doing aerial ballet
(this was left out of the video)
. You see if this was not sponsored by any of the two aforementioned producers the band would have continued playing and welcomed the new year with a song that would have gotten the crowd jumping on their feet. Here's a video of the countdown and the fireworks display if you're interested:
We left along with some of the crowd right after the fireworks and missed the continuation of the Kamikazee set. Had we stayed we would have suffered through Lord knows how many more minutes of abs-cbn and Makati City patting themselves on the back onstage for a job well done
(?)
. Really.
Labels: ayala center, kamikazee concert, makati city, new year countdown