Saturday, November 15, 2008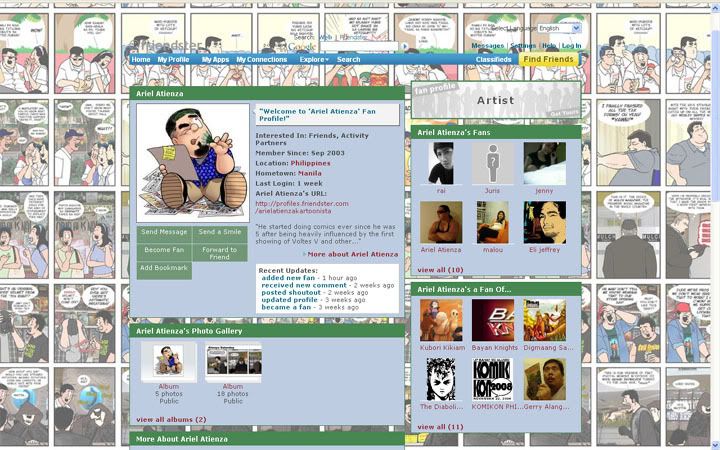 Just discovered they finished doing my Fan Friendster profile. Awesome!
Labels: aha, art related, awesome, cartoons, comics related, cool, discovery, launching
Friday, November 14, 2008
Do any of you remember that animated segment in Sesame Street where a small girl holding a balloon narrates her daydreams with, "
What would happen if...?
"
Now imagine what would happen if Adobe Photoshop came in a box and you'd have to set up everything manually?
Yeah. It looks crappy but what if the package comes with an undo button too?
Labels: art related, awesome, cool, cute, funny stuff, pang-asar, uh-huh
Monday, November 10, 2008
Just read this pretty significant news today:
Rabbi Reveals Name of the Messiah


Israel Today





Shortly before he died, one of Israel's most prominent rabbis wrote the name of the Messiah on a small note which he requested would remain sealed until now. When the note was opened, it revealed what many have known for centuries: Yehoshua, or Yeshua (Jesus), is the Messiah.



A few months before he died, one of the nation's most prominent rabbis, Yitzhak Kaduri, supposedly wrote the name of the Messiah on a small note which he requested would remain sealed until now. When the note was unsealed, it revealed what many have known for centuries: Yehoshua, or Yeshua (Jesus), is the Messiah.

With the biblical name of Jesus, the Rabbi and kabbalist described the Messiah using six words and hinting that the initial letters form the name of the Messiah. The secret note said:

Concerning the letter abbreviation of the Messiah's name,

He will lift the people and prove that his word and law are valid

.



Thisis I have signed in the month of mercy,




Yitzhak Kaduri



The Hebrew sentence (translated above in bold) with the hidden name of the Messiah reads:

Yarim Ha'Am Veyokhiakh Shedvaro Vetorato Omdim



The initials spell the Hebrew name of Jesus, Yehoshua. Yehoshua and Yeshua are eectively the same name, derived from the same Hebrew root of the word "salvation" as documented in Zechariah 6:11 and Ezra 3:2. The same priest writes in Ezra, "Yeshua son of Yozadak" while writing in Zechariah "Yehoshua son of Yohozadak." The priest adds the holy abbreviation of God's name, ho, in the father's name Yozadak and in the name Yeshua.

With one of Israel's most prominent rabbis indicating the name of the Messiah is Yeshua, it is understandable why his last wish was to wait one year after his death before revealing what he wrote.

When the name of Yehoshua appeared in Kaduri's message, ultra-Orthodox Jews from his Nahalat Yitzhak Yeshiva (seminary) in Jerusalem argued that their master did not leave the exact solution for decoding the Messiah's name.

The revelation received scant coverage in the Israeli media. Only the Hebrew websites News First Class (Nfc) and Kaduri.net mentioned the Messiah note, insisting it was authentic. The Hebrew daily

Ma'ariv

ran a story on the note but described it as a forgery.

Jewish readers responded on the websites' forums with mixed feelings: "So this means Rabbi Kaduri was a Christian?" and "The Christians are dancing and celebrating," were among the comments.



Israel Today

spoke to two of Kaduri's followers in Jerusalem who admitted that the note was authentic, but confusing for his followers as well. "We have no idea how the Rabbi got to this name of the Messiah," one of them said.

Yet others completely deny any possibility that the note is authentic. Kaduri's son, Rabbi David Kaduri, said that at the time the note was written (September 2005), his father's physical condition made it impossible for him to write.



KADURI'S PORTRAYAL OF THE MESSIAH



A few months before Kaduri died at the age of 108, he surprised his followers when he told them that he met the Messiah. Kaduri gave a message in his synagogue on Yom Kippur, the Day of Atonement, teaching how to recognize the Messiah. He also mentioned that the Messiah would appear to Israel after Ariel Sharon's death. (The former prime minister is still in a coma after suffering a massive stroke more than a year ago.)

Other rabbis predict the same, including Rabbi Haim Cohen, kabbalist Nir Ben Artzi and the wife of Rabbi Haim Kneiveskzy.

Kaduri's grandson, Rabbi Yosef Kaduri, said his grandfather spoke many times during his last days about the coming of the Messiah and redemption through the Messiah.

His spiritual portrayals of the Messiah—reminiscent of New Testament accounts—were published on the websites Kaduri.net and Nfc:

"It is hard for many good people in society to understand the person of the Messiah. The leadership and order of a Messiah of flesh and blood is hard to accept for many in the nation. As leader, the Messiah will not hold any office, but will be among the people and use the media to communicate. His reign will be pure and without personal or political desire. During his dominion, only righteousness and truth will reign.

"Will all believe in the Messiah right away? No, in the beginning some of us will believe in him and some not. It will be easier for non-religious people to follow the Messiah than for Orthodox people.

"The revelation of the Messiah will be fulfilled in two stages: First, he will actively confirm his position as Messiah without knowing himself that he is the Messiah. Then he will reveal himself to some Jews, not necessarily to wise Torah scholars. It can be even simple people. Only then he will reveal himself to the whole nation. The people will wonder and say: 'What, that's the Messiah?' Many have known his name but have not believed that he is the Messiah."



FAREWELL TO A 'TSADIK'



Rabbi Yitzhak Kaduri was known for his photographic memory and his memorization of the Bible, the Talmud, Rashi and other Jewish writings. He knew Jewish sages and celebrities of the last century and rabbis who lived in the Holy Land and kept the faith alive before the State of Israel was born.

Kaduri was not only highly esteemed because of his age of 108. He was charismatic and wise, and chief rabbis looked up to him as a

Tsadik

, a righteous man or saint. He would give advice and blessings to everyone who asked. Thousands visited him to ask for counsel or healing. His followers speak of many miracles and his students say that he predicted many disasters.

When he died, more than 200,000 people joined the funeral procession on the streets of Jerusalem to pay their respects as he was taken to his final resting place.

"When he comes, the Messiah will rescue Jerusalem from foreign religions that want to rule the city," Kaduri once said. "They will not succeed for they will fight against one another."



THE RABBI'S FOLLOWERS REACT



In an interview with

Israel Today

, Rabbi David Kaduri, the 80-year-old son of the late Rabbi Yitzhak Kaduri, denied that his father left a note with the name Yeshua just before he died.

"It's not his writing," he said when we showed him a copy of the note.

During a nighttime meeting in the Nahalat Yitzhak Yeshiva in Jerusalem, books with the elder Kaduri's handwriting from 80 years ago were presented to us in an attempt to prove that the Messiah note was not authentic.

When we told Rabbi Kaduri that his father's official website (www.kaduri.net) had mentioned the Messiah note, he was shocked. "Oh no! That's blasphemy. The people could understand that my father pointed to him [the Messiah of the Christians]."

David Kaduri confirmed, however, that in his last year, his father had talked and dreamed almost exclusively about the Messiah and his coming. "My father has met the Messiah in a vision," he said, "and told us that he would come soon."



Israel Today

was given access to many of the rabbi's manuscripts, written in his own hand for the exclusive use of his students. Most striking were the cross-like symbols painted by Kaduri all over the pages. In the Jewish tradition, one does not use crosses. In fact, even the use of a plus sign is discouraged because it might be mistaken for a cross.

But there they were, scribbled in the rabbi's own hand. When we asked what those symbols meant, Rabbi David Kaduri said they were "signs of the angel." Pressed further about the meaning of the "signs of the angel," he said he had no idea. Rabbi David Kaduri went on to explain that only his father had had a spiritual relationship with God and had met the Messiah in his dreams.

Orthodox Jews around the Nahalat Yitzhak Yeshiva told

Israel Today

a few weeks later that the story about the secret note of Rabbi Kaduri should never have come out, and that it had damaged the name the revered old sage.
This is very interesting because there's a huge contradiction on the surface. It's a well known fact that Orthodox Jews do not believe the
Messiah
has already come in the person of
Jesus
of Nazareth. That's why they're still waiting for His appearance up till now.
The reason stems from their belief of the the 2 types of Messiah:
Moshiach ben Yosef
(Messiah Son [descendant] of Joseph, "the suffering Messiah")
and
Moshiach ben David
(Messiah Son [descendant] of David,
"the victorious Messiah"
)
. According to their belief, Messiah ben Joseph is only a forerunner of the second type, one that will gather the people of Israel together in a battle against their enemies only to be killed. The second type will lead the people into victory resurrecting the first one in the process. It's that second type they're waiting for and believe will be coming soon
(for whom the
third temple being prepared in Jerusalem
is for)
.
But salvation in the last days will not come to them until they recognize Him for who He is
.
Labels: awesome, cool, curios, discovery, events, history, launching, theology
Thursday, November 06, 2008
Confirming The Sequence Of End Times Events




By Jack Kelley





He replied, "When evening comes, you say, 'It will be fair weather, for the sky is red,' and in the morning, 'Today it will be stormy, for the sky is red and overcast.' You know how to interpret the appearance of the sky, but you cannot interpret the signs of the times."

(Matt. 16:2-3)





So when you see standing in the holy place 'the abomination that causes desolation,' spoken of through the prophet Daniel—let the reader understand— then let those who are in Judea flee to the mountains.

(Matt. 24:15-16)





For then there will be great distress (Great Tribulation), unequaled from the beginning of the world until now—and never to be equaled again.

(Matt. 24:21)



When it comes to developing any kind of time line concerning the End Times, the watershed event has to be the Abomination that Causes Desolation. Why? Because from that time forward, the Bible gives a very clear sequence of events.

First, the Abomination is the event that kicks off the Great Tribulation, a period of judgments 3 1/2 years long.(Matt 24:15,21) After the Great Tribulation, the Lord returns and following His return the Millennium begins. After the Millennium comes Eternity. Any one on Earth during this time will be able to predict these events with reasonable accuracy.

Second, we who study prophecy can also count backward from the Abomination that Causes Desolation and predict the sequence of events leading up to it by applying our knowledge of Scripture.



How Does That Work?



Well, we know that the Abomination involves the anti-Christ standing in the Temple in Israel, proclaiming himself to be God. (Daniel 9:27 and 2 Thes. 2:4)

But that can't happen until some other things take place first. Obviously the anti-Christ has to be revealed. And the Jews have to build their Temple. This is something that can't happen until they experience a change in attitude causing them to demand a Temple regardless of the consequences. Today less than 1 in 4 citizens of Israel want a Temple built, but even if every one of them did just the hint that they were going to build one would send the rest of the world into a tizzy. It simply wouldn't be permitted.

Some major event has to take place to convince the Jewish people that building a Temple in Israel is the right thing to do in spite of all the trouble it could cause, and some world leader has to have enough clout to convince the rest of the world, especially the Moslem Middle East, to let them do it.

Daniel 9:27 also reveals that as the End of the Age approaches, a leader from among the people who destroyed the Temple in 67 AD will confirm (enforce) a 7 year covenant with Israel that includes permission to build a new Temple, and that in the middle of this period he will commit the Abomination that Causes Desolation. That explains the persuasive world leader. He's the anti-Christ, and he wants the Temple built for reasons that have nothing to do with Israel. The unanswered question in Daniel's prophecy is why the Jews would desire a Temple at that particular time.

Our knowledge of the Old Testament tells us that a Temple was necessary to fulfill the requirements of the Levitical worship system. So then, because of the uproar it would create, it seems logical to assume that the Jews would only want a Temple if they felt it was absolutely necessary for the Nation of Israel to re-instate their Old Covenant worship of God.

Continued: How Does That Happen?
Bible students and those interested in how eschatology fits into world events would do well to sit up and take notice how things are shaping up. Recent events conspired to shake off my complacency, resulting in some paradigm shifts, and read up on the subject once more. I hope to set my priorities straight for hereon in. Things won't be getting any better so
we all should best be getting ready
.
Wednesday, November 05, 2008
So it begins
.
Seems
everything's falling into place
as it should. The
next few years would be interesting
to watch as history unfolds as never before.
Monday, November 03, 2008
How Would Jesus Vote?




Jack Kelley





"But as for you who forsake the LORD and forget my holy mountain, who spread a table for Fortune and fill bowls of mixed wine for Destiny, I will destine you for the sword, and you will all bend down for the slaughter; for I called but you did not answer, I spoke but you did not listen. You did evil in my sight and chose what displeases me." (Isaiah 65:11-12)



For most of America's history there's been a direct connection between patriotism and faith, probably because the US was founded as a Christian nation. We've always believed that God has watched over us, made us prosperous, and been on our side in the wars we've fought.

That connection began to unravel in the 1960's, but it's surprising the number of people who still believe that if seems to be good for the country, it must be right. This is true even among believers. According to recent Barna polls, 48% of those likely to vote in the coming election are born again Christians. That means they claim to have made a personal commitment to Jesus and believe they will go to heaven because they have confessed their sins and accepted Jesus Christ as their Savior. These same polls show that nearly half of them will vote for the candidate they think has the best plan for restoring America's reputation in the world and managing the economic battles that lie ahead, rather than the one who they think will best uphold the Biblical principles they believe. So if only half the voters are believers, and half of them plan to use worldly standards in making their choice rather than Biblical ones, it follows that only 1 in every 4 voters will be exercising any spiritual discernment at all in casting their vote.

The other 3 are using standards like peace, financial security, tolerance, choice, and so on as their guidelines. They don't realize that only God can restore peace and security to their lives, and tolerance and choice are just nice sounding words that really stand for rebellion against Him. By not considering His standards in casting their vote, they're guaranteeing that He won't be helping them get what they want.

Continued:

What's At Stake Here?
It's the eve of another
(if not the most)
historic US election. I guess everyone's conscious of the fact that the fate of the world at large hinges on the outcome of this election. Do prayerfully consider your choice before casting your vote and for
those whose citizenship are not of this world and who're longing towards a better country
, along with those who are best looking for it too, should take comfort in
Pastor Carey Hardy
's preaching
regarding Biblical perspective on this election,
"

Maximum Impact

," (note: no candidates specifically endorsed [audio / 45 mins])
.
Labels: awesome, curios, discovery, events, history, politics
Sunday, November 02, 2008
This is a speech from Eisenhower's Secretary of Agriculture. Kruschev was eerily correct about our future.






"I have talked face to face with the godless communist leaders. It may surprise you to learn that I was host to Mr. Kruschev for a half day when he visited the United States, not that I'm proud of it. I opposed his coming then, and I still feel it was a mistake to welcome this atheistic murderer as a state visitor. But, according to President Eisenhower, Kruschev had expressed a desire to learn something of American Agriculture — and after seeing Russian agriculture I can understand why. As we talked face to face, he indicated that my grandchildren would live under communism. After assuring him that I expected to do all in my power to assure that his and all other grandchildren will live under freedom he arrogantly declaired in substance:





" 'You Americans are so gullible. No, you won't accept communism outright, but we'll keep feeding you small doses of socialism until you'll finally wake up and find you already have communism. We won't have to fight you. We'll so weaken your economy until you'll fall like overripe fruit into our hands.'





"And they're ahead of schedule in their devilish scheme."



(

Ezra Taft Benson

"Our Immediate Responsibility." circa 1968.")
Doesn't this sound eerily true? Shouldn't this make us feel uneasy enough to open our eyes and be vigilant about guarding our freedom? Remember what is
rightfully ours to fight for
.
You can listen to the whole speech here: