Wednesday, January 07, 2009
Resumption of the
West Side
strips continue after a 2 year hiatus.
Woohoooo!
This is the short version of the original which was done in a two-part extended version to celebrate the come back,
(you could see by clicking the image).
I aiming to post one strip a week so I could stick to a schedule and keep on churning strips on a regular basis. Then as soon as I get back on the groove I'll go to posting twice a week and dare I say, three times a week.
O ha?! O ha?!
In the meantime I'll be posting random bonus strips online which didn't come out in the paper when the mood strikes. Anyhoo, I hope you guys like this one for the new year!
Labels: art related, awesome, comics, cool, funny stuff, West Side comic
Sunday, January 04, 2009
I can't remember the last time I donated blood and there's nothing wrong with it but I can't help replaying that opening scene in the
Blade II
where a group of Czech vampires run a blood bank draining everything from the poor souls
(that's until they got their comeuppance)
. That's what's on my mind on the way to the Philippine Heart Center to donate blood for, Barry, a friend from SKP who sorely needs it
(he's getting a double bypass tomorrow)
. It didn't help much that there weren't that much people inside the building when I got there except for a few guards sitting around and some noise from what seems to be a late Christmas party going on inside one of the bigger offices on the way to the blood bank.
The feeling for creepiness was quickly replaced by a slight awkwardness when I got to the lobby of the blood bank and there was a group of people initially chatting around but stopped a bit when they saw me. It was the same feeling if you're familiar with
Spaghetti Westerns
where folks inside the saloon stops taking to assess the stranger coming through the doors. I quickly went to the counter, avoiding the stares some were still throwing at me to ask where do I start. I was given a couple of forms to fill up and then I was asked to sit down and wait for my name to be called. I tried my best to be inconspicuous while scanning the surrounding people hoping to catch a dialogue or two that would clue me in to them as either relatives or friends of the one I'm visiting
(I even caught some amusing caught some anecdotes from some)
. I quickly deduced there were at least three groups and none of them seemed to be related to Barry. I haven't sat there for long when I heard the bank calling my name, a short interview ensued, back to my seat and after a few more minutes of waiting I was called back to have my blood tested. That's when I was asked to come back after an hour after checking if I pass the final test or not.
I went to Barry's room to pay him a short visit while waiting for the hour to run out. He was billeted in one of those large rooms where three patients share at the same time. He was doing fine despite the operation coming tomorrow. He was more worried about the bills and missing out on the Christmas parties, SKP meetings, the New Year's eve celebration, etc. We swapped stories and news and on the issue of the delicate operation he was facing, he just plainly said he was ready to go if anything happens. He's already made peace with God and he's got no problems with the Lord calling him home if that's what happens. We had a good time chatting
(along with a business associate who also dropped by)
before you know it an hour has already passed.
I went back to the blood bank just in time to hear my name being called. I passed the stringent exams! There were five of us in the room, I got first pick for the bed and the first prick for the donation while conveniently watching
Goin' Bulilit
on the small screen they provided for the room
(first time I saw it and got a good laugh out of the comedy sketches)
. We finished after about thirty minutes and got to watch the first part of
The Singing Bee
with the PBA greats like Jerry Codinera, Alvin Teng, Ato Agustin, Johnny Abarrientos, Ronnie Magsanoc, Bong Alvarez, etc. with their wives and kids gamely trying to carry a tune on national television for moolah. I wanted to stay and watch but I had to go. These pictures below were taken on the courtyard behind the buildings on the way to the exit. I know that traditionally Christmas ends today but I sure wish the cold air could continue on for 6 more months.
Got home around 8 pm, fed the dogs after which there wasn't enough time to check out the malls so I just went out to eat across the road. There wasn't much of a budget to speak of so that limited my choices to the smaller food places scattered around the call centers. I settled for
Mang Pedro's Chicken Inasal
, ate my dinner while being greatly entertained by their TV ads being looped on the hanging TV screen near the counter.
I went home after that hearty repast.
Labels: aaahh, curios, reminiscing
Saturday, January 03, 2009
Movie FAIL. That's what happened tonight. I was supposed to go with the 'rents to watch
Shake, Rattle & Roll X
in Megamall, I searched a suitable schedule and cinema and went ahead to buy some pet supplies while they were waiting for the availability of the driver. It was getting late and I had to go ahead of them so everything would be smooth sailing, with no time being wasted. But when I had bought everything I needed, I waited. And waited. And waited.
I tried calling my mom's cellphone twice. Nobody's answering. I called the landline at home expecting they decided to call it quits. Nobody was answering. A couple of minutes later I received a text message from my mom sending her apologies for not hearing her phone ring and ton inform me that they were already inside the movie theater.
That sucks.
Then again, I thought, I didn't have any right to be angry about what happened,
"Consider it a privilege if they decided to watch the movie with you."
I already watch the movie anyway, so I decided to kill some time in Powerbooks till closing time. After the mall closed I decided to kill more time before having a late dinner by walking all the way though EDSA Central.
I didn't know they created a huge lawn in place of the old jeepney parking lot on the left side.
Hooray for them.
Wonder when that will open? I stopped by this small eatery we used to pass by but never entered to see how much a meal costs. A viand plus rice costs 2/3 less than what a burger meal in one of those fastfood chains usually costs. They're one of the series of small eateries open 24/7 in the area serving mostly employees of call centers nearby. After that small meal I walked the rest of the way home crossing over the recently constructed footbridge for the third time.
The chill in the air remains making the journey more bearable, at least, tonight.
Labels: reminiscing, uh-huh, whatever
Friday, January 02, 2009
Had a full day today with friends going around the malls. It's two different sets of friends actually in two different malls capping the celebration of the New Year. First round was during lunch with a really good friend
(and fellow geek)
from college. We went around SM North eating lunch at the still cramped food court, eating fake meat in
Bodhi
(we're not vegetarians but a medical condition prevents my friend from regularly indulging himself with real meat)
. The food court's not a total loss with the small improvements done here and there.
Then it was off to the newly opened Annex part of the mall. My friend informed me previously that there wasn't much of anything to see since except for the grocery store which is the only one open inside but he relented later and took me on a tour. As you can see from these pictures, and if you go there yourself, that statement was a tad exaggerated.
The 4th floor's the one that interests me the most with its floorspace and interiors:
Do try to see it before its occupancy by future CD/computer peripherals stalls, internet shops, and snack bars.
From those windows you can see a good view of the surrounding areas including the present construction of the future site of the
Sky Garden
down on the second floor: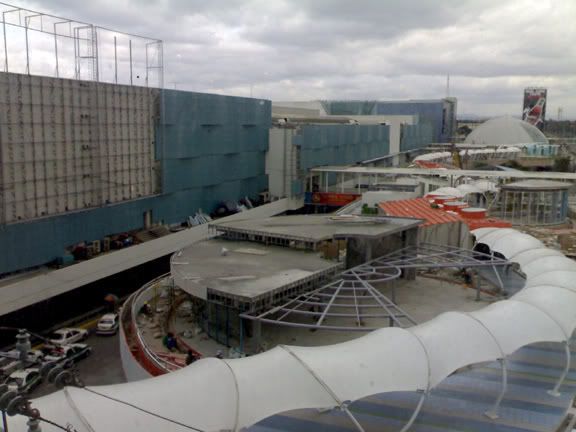 Here are some more pictures on the same floor and a view of the groundfloor showing the glass ceiling of the
Ace Hardware
down in the basement level:
And some pictures of the funky escalators from above and below:
We went home after that extensive tour for me to feed the dogs and cats and to get ready to go out again to meet the
Artists' Den
people for our regular Friday meeting.
Syeri
suggested earlier we all get together for an early dinner at the newly constructed atrium in Megamall. At a place called:
"Factory."
Nice place at the second floor, somewhat pricey for regular dining but good enough for our first meeting of the year. I haven't figured it out if it's Persian or Indian cuisine they serve, they have a lot of curry dishes with mild to moderate spiciness, but the interiors betray none of its identity.
Maybe it's both.
Topics over dinner ranged from the trivial to more or less disgusting, as far as conversations with close friends go peppered generously with laughter:
We went to the fourth floor to
Crepes and Cream
after that for dessert and for the actual meeting. This place has a more affordable, but strange, set in its menu. We usually associate crepes with sweets but
C & C
took it further to include main course in their offerings
(enough to give you the "crepes." Haha!)
.
This was the one I picked:
After a very short meeting with agendas pending the approval of some issues that still need to be cleared with the resumption of work next week, half of the group delved into playing
Magic: The Gathering
to pass the time. And I still can't get how it's played. All their talk about hit points, strategies, magical creatures went sailing over the heads of those of us who doesn't play. We broke up the meeting after one round, roughly around 9 pm. We went home, but having nothing else to do back here at home, and getting antsy for going home well before the time I'm accustomed to, I went to the Shang and whiled away the time browsing in the lone bookstore inside the mall
(National Bookstore doesn't count as one)
before sitting down to read the free newspaper and magazines in Starbucks to slow things down. That's where I took a picture of this nice view: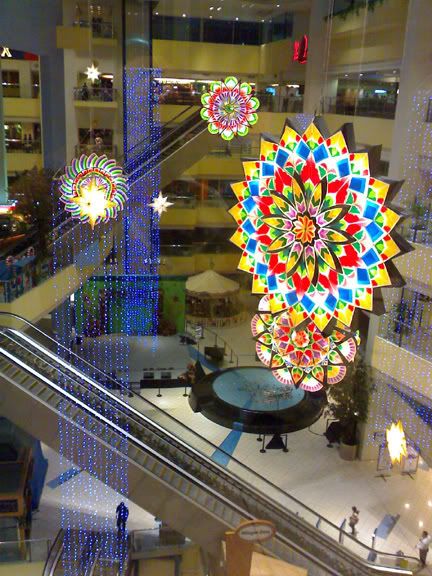 With the mall now closed, I went back home and settled in for the night after checking everything's okay with the pets.
Labels: aaahh, awesome, barkada, cool, curios, discovery, events, feast, happy gathering, new year, reminiscing
Thursday, January 01, 2009
This is Megamall around 9:10 pm after all the hoopla of the holiday season.
This is one of the many driveway exits of the Shangri-la Mall
(with the hotel at the background)
around the same time.
Vacation with these malls closed or closing early sucks.
Another year, another year full of possibilities, may we have none of the grumbling and whining of the past years and remember these wise words:
"The future lies before you, like paths of pure white snow. Be careful how you tread it, for every step will show."

~Author Unknown



"Sometimes the only way you can take a really good look at yourself is through somebody else's eyes." ~From the television show

Scrubs



"Your future depends on many things, but mostly on you."

~Frank Tyger



"When you lose, don't lose the lesson."

~Author Unknown



"There is often less danger in the things we fear than in the things we desire."

~John C. Collins
Happy New Year everyone!
Labels: aaahh, discovery, events, feast, happy gathering, history, launching, new year, waxing poetic