Friday, June 27, 2008
I'm taking a break from posting comic strips for a while so I'm back to posting photographs in my DA account starting with this one.
Labels: art related
Thursday, June 26, 2008
This is the last of the school opening series for this month and tied up with the news about the typhoon a week ago. Although it happened during the weekend, students at least had the consolation of having classes in all levels in the metro cancelled so those in charge can assess the damages and prevent further injuries from whatever debris is left around the campus. By the way, this is the unedited strip submitted to the paper and it may or may not be changed to suit my funny bones later when it's colorized later in my DA page.
*
West Side
is published weekly in
Philippine News
.
Labels: art related, cartoons, comics, funny stuff, pang-asar, Philippine News, West Side comic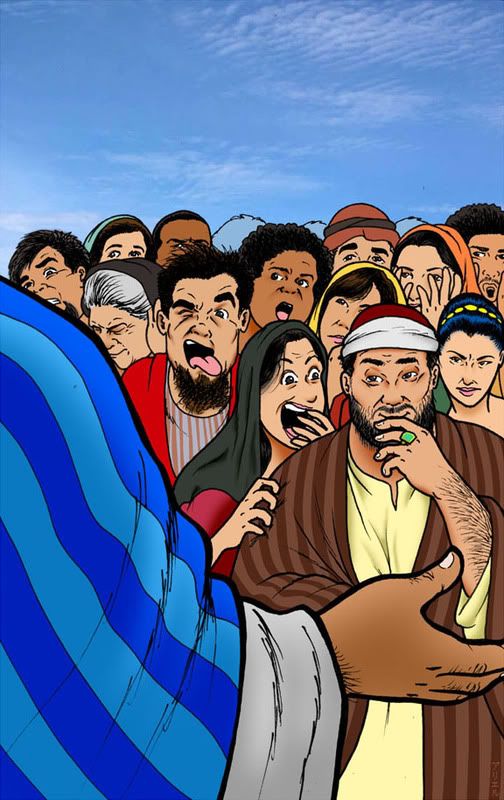 This is a commissioned work for the month long topic about the
outrageous sayings of Jesus at the VCF center in Fort Bonifacio
(starting this Sunday, real interesting too if you want to catch what those are)
. I did a minor revision on the pattern on the robe of Jesus to fit the
original design
I came up with a long time ago
(it was a wonderful, wonderful work for a special summer topic for the kids' church in VCF Manila back in the late 90s. It was about the "Journey Through the Bible," starting with Adam and Eve in the garden right up to the
paper tole
figure of Jesus playing with a couple of kids and surrounded by a crowd of Pharisees and disciples. I did the whole thing manually with drawing pens and water color, unfortunately I didn't have any scanner or camera of any kind at the time so I wasn't able to secure a copy of the whole thing)
.
Click the image to open another window to see the revised version of the illustration.
* Thank you
Ganns
for the opportunity to do this.
Labels: art related, cartoons, events, signages, vcf